Post may contain affiliate links. A lot of mothers avoid using prefold cloth diapers because of the few steps involved.  There are some great advantages that a prefold can offer over every other type of diaper.  I was also hesitent of using the prefold once, but now it's one of my favorite diapering systems.  Here are 5 benefits a prefold can offer!
1. Economical 
Prefolds cloth diapers are among the cheapest diapering systems you can purchase. You can find a pack of 10 for around 20-25 bucks.  One regular All in One or Pocket Diaper will cost you around 15-20 alone. Prefolds come in different sizes to grow with your baby.  Newborn cloth diapers can be pricey and they grow out of them quickly. Newborn prefolds are a great economical option and You can get a pack or two of newborn prefolds and use them as burp cloths later. Of course, you will have to factor in the cost of a few covers and a Snappi, but if you buy them used you save even more! Some mothers only use the prefold diapering system from birth to potty training. If you keep them in good condition you can sell them, recouping some of your money! If you want to know more about the the Snappi, check out my blog on SNAPPI VS BOINGO!
2. Customizable 
No other diaper can customize a perfect fit like the prefold. There are several different types of folds you can do to cater to your baby's specific needs. I have a baby boy so I fold it over in the front where he needs it the most. The jelly-roll fold is great for newborns because it holds in the messy breastmilk poo so well.  All you do is lay the prefold down, roll in the sides then fold over and secure with the Snappi.  For quick changes, you don't even have to do a fancy fold or Snappi. Just fold it in thirds and lay it inside of your cover.
3. Perfect Fit
As just mentioned, prefold cloth diapers are the most customizable diaper. Anytime we are going out to dinner I slap on a prefold. It looks and fits the best under his clothes where other diapers look too bulky. It will take on the shape of a chubby, skinny, short, or tall baby. For example, this is a great option for babies who have a hard time fitting standard diapers. This diaper is also ideal if you are taking your baby to get pictures made.
4. Low Maintenance 
I have a variety of cloth diapers but one thing I love about the prefold, is the low maintenance factor. If needed, you can bleach them without worrying about the cover (sense it doesn't have one). There are no snaps or velcro to worry about either. A prefold is basically a glorified rag, so I don't worry about stains and air drying like I do with my pockets and AIO's. These diapers last a long time without showing signs of wear. The prefold is just basic and simple, a no fuss diaper.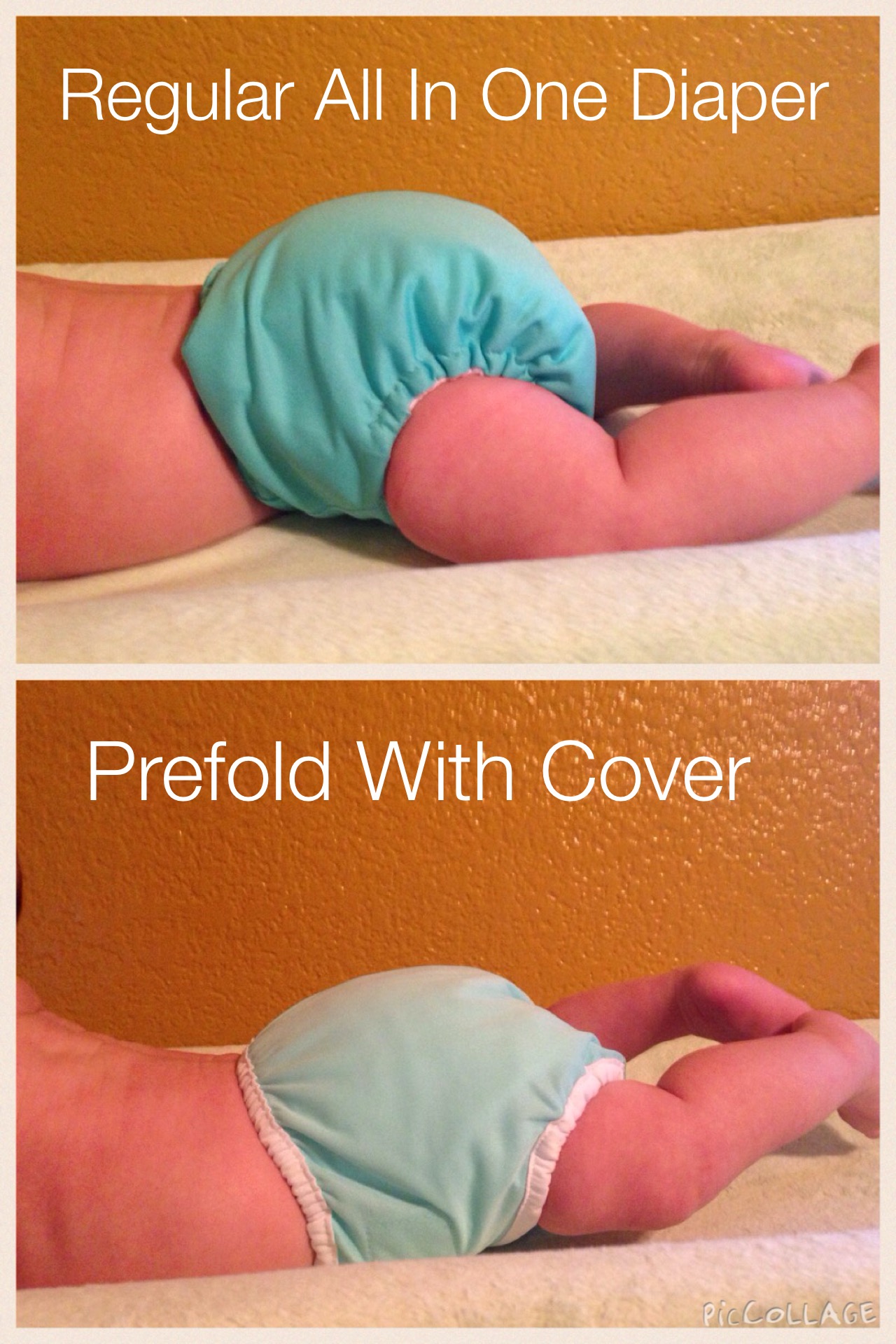 I love my Thirsties diaper covers, you can check out this affiliate link image if you are interested in purchasing your own! 
5. Versatility
The prefold cloth diapers are the most versatile diaper you can get, other than a flat. For example; if you purchase 12 newborn flats for 25 dollars you can diaper your newborn up to 12-15 pounds. You can then fold them in thirds and stuff them inside your pocket diapers so they are doubling as inserts! You can also use them as burp cloths and lay them over your Boppy Pillow if nursing to catch any mess.  You can use them on your next baby or use them as cleaning rags. You also have the option of selling them, usually making around 10 bucks if in good condition. If you do that you have only spent 15 dollars for several years of use. Not bad, not bad at all.  🙂