Post may contain affiliate links. When it comes to cloth diapering your options are almost endless. This article will dive into the pros and cons of one size cloth diapers and sized diaper options. They can easily be confused with one another if you are new to cloth. I hope to clear the air and give you a better understanding of what to get for your stash & budget!
When thinking about "one size cloth diapers" (OS) you can think of it at it like a "One Size Fits All" option. This type of diaper adjusts to fit your baby as he or she grows. It's almost like a shape-shifter . . . but not as cool. Most of my stash is made up of one size cloth diapers because they are such a great economical option.
A OS cloth diaper will generally fit your baby from around 8-35 pounds depending on the brand. If you are as cheap as I am, you may want to give them a shot.
Styles of One Size Cloth Diapers
Adjustable Rise  >>>  Most of the time you have an adjustable rise in front that you can un-snap as the baby gains weight. Usually you have three rows of snaps, however, some brands such as the Rumparooz OS diaper have four rows allowing the diaper to get even smaller for newborn babies.
This is an example of a typical OS diaper with a three row-rise snap. The GroVia Hybrid OS Diaper. (8-35 Ibs)

You can see how small and large this diaper is capable of getting. Your baby will be in the middle setting for most of his or her diaper days. You can learn more about the GROVIA HYBRID in my video review.
Flip Over OS >>>  This unique diaper actually flips down in the front with snaps on the back and front side. You flip the front over to make the diaper smaller. I haven't seen a lot of diapers like this but here is an example of a flip over style, the Mother-Ease OS fitted diaper. (8-35 Ibs) This diaper also features cross over snaps so you can get a smaller waste fitting. 
The Mother-Ease OS FITTED DIAPER is pretty bulky, better used as a night-time diaper with a waterproof cover until they grow into it. I love how soft they are, my baby used to wear this every night (before bed) without a cover. We liked to give his cute little bum some air time. The Mother-Ease diaper is all cotton so it's breathable but it's also so thick it doesn't leak through for a good two-three hours.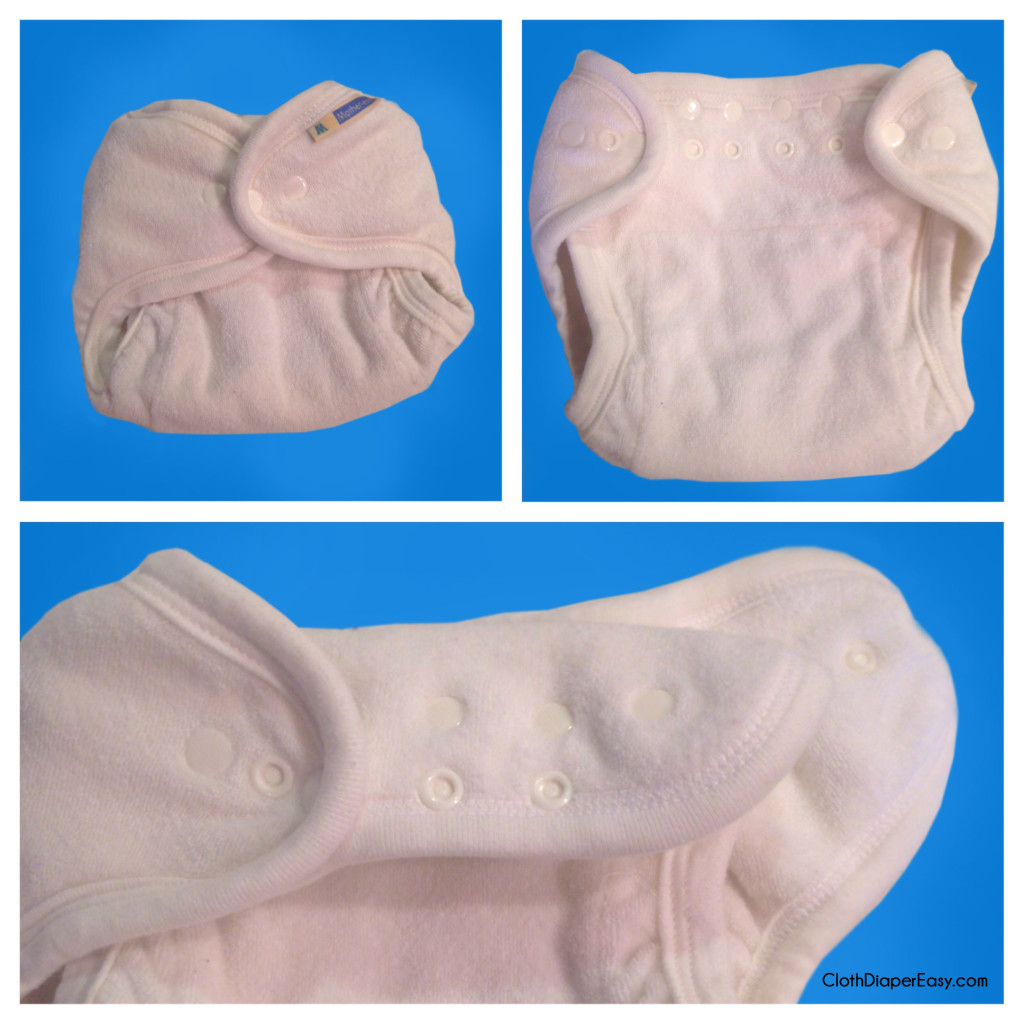 I use these almost every night and highly recommend them. Check out my affiliate link if you would like to purchase your own. I do make a pathetically small commission if you go through my link and it's at no extra cost to you.  Mother-Ease One-Size Cloth Diaper (Unbleached)
Adjustable Elastic >>> Some one size cloth diapers don't have an adjustable rise, instead they come with adjustable elastic. This FuzziBunz OS pocket diaper, for example, can adjust in the legs and in the back making for a perfect fit. You pull the elastic tighter (for a smaller baby) or looser (for a bigger baby) and secure with a button. 
One of the benefits to using adjustable elastics is that when it's time to replace the worn out elastics it will be a lot easier than trying to sew new ones in. This particular diaper even came with an extra set of elastics. 
Stacee Magee (owner of Boingo Baby) was the inventor of adjustable elastics and holds the patent on them.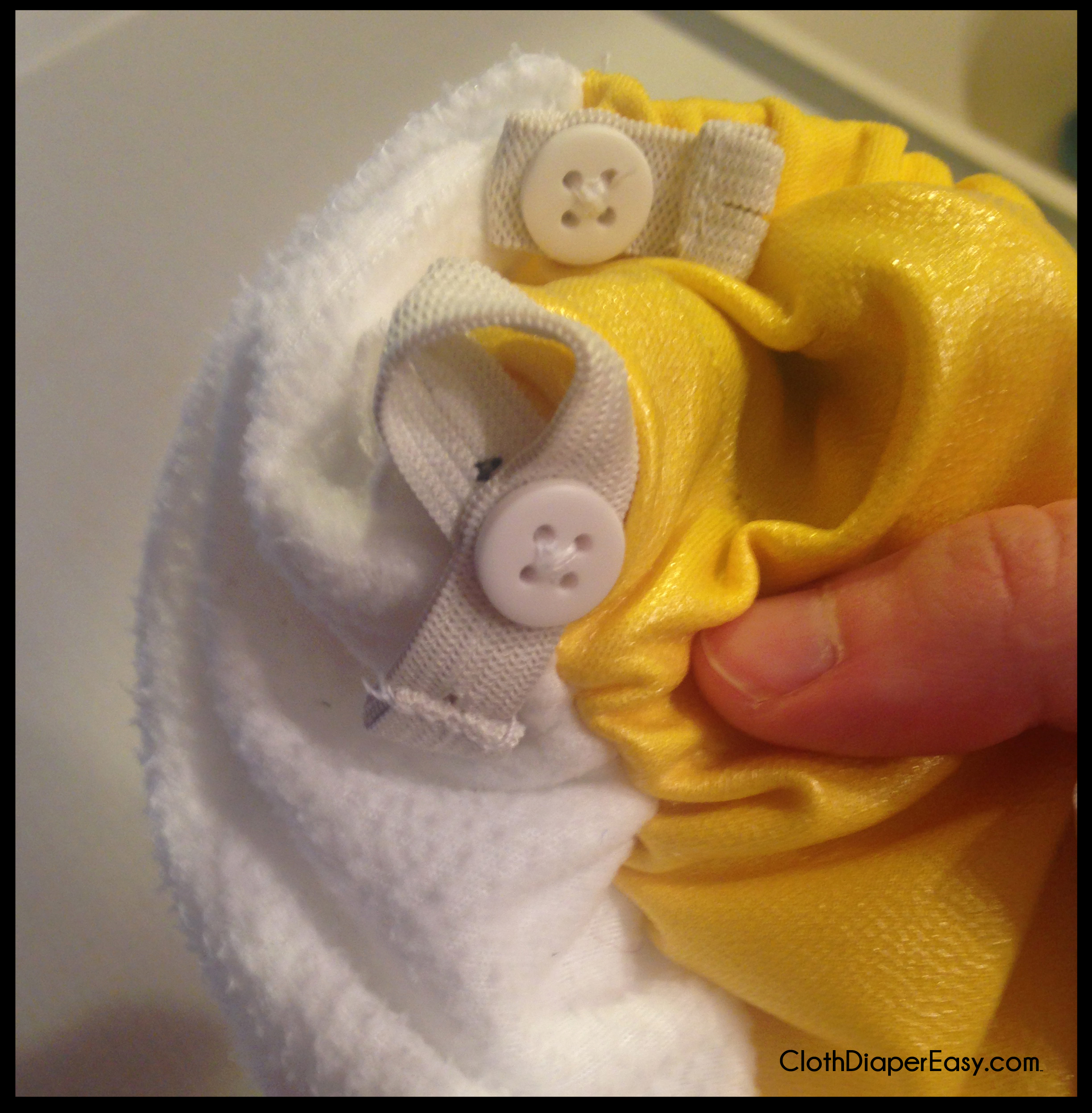 The elastic on the FuzzyBunz elastic is numbered so you can tighten both sides exactly the same.


CHARLIE BANANA is another brand that features the adjustable elastic, only they have S M & L instead of numbers like the FuzziBunz diaper.
Personally, I find it a lot easier to adjust a snap rise diaper rather than the adjustable elastic. Ok, I will be honest with you. I HATE adjustable elastics. These types of diapers fit like a glove but they are a pain in the bootie to mess with!
Some people absolutely love adjustable elastics because you can get a much more tailored fit than you can with a snap rise. Adjustable elastics are great for kids with super thin or chunky legs.
Like I mentioned earlier when the elastic wears out you can easily replace them, extending the life of your diaper. Both FuzziBunz & Charlie Banana come with an extra set of elastic.
Disadvantages Of The OS Diaper
Depending on the shape of your baby, OS diapers may not fit the entire range listed. For example, a lot of OS cloth diapers claim they fit from birth to potty training. This is sometimes the case but not always.
My first child didn't start to fit (very well) into his OS diapers until he was around 11-12 pounds. It almost appeared as if the diaper was eating him alive while his tiny legs pocked out of both holes!
They can be super bulky until the baby gains a little weight unless you're blessed with a bigger baby upon birth. This was the case with my second, he was 10 pounds! He was pretty much born to wear OS diapers as he blew out of his newborn stash pretty quickly.
On the other hand, big babies don't fit either
Some babies eventually outgrow one size cloth diapers and have to use a larger size. This isn't as common, generally, your one size diaper will get your baby to the potty training age.
So you can see why OS cloth diapers are not always ideal for every situation. There are children who also have long lasting incontinence issues or disabilities who will need a bigger size as they grow.
This brings us to our next type of cloth diapers…
When you think of "Sized Diapers" think in terms of small, medium, and large. They are made to fit specific size ranges rather than trying to fit them all. Sized diapers give a more trim and tailored fit.
Sized for the smaller champions
OS cloth diapers can be too bulky to fit tiny babies so they offer sized cloth diapers for newborns (NB) or small babies. You can even purchase cloth diapers sized specifically for preemie babies.
There is almost nothing in this world more adorable than an itty bitty cloth diaper! ♥
Some newborn cloth diapers will have an umbilical cord snap-down feature. This will keep the diaper from rubbing and irritating the cord until it falls off. Lil Joey, Imagine Baby, and Thirsties Baby newborn cloth diapers are a few that have this feature.
Skip NB diapers if you have fat babies
If you are prone to having larger babies (9 Ibs +), you may want to skip the expense of NB diapers and go straight to OS. I actually stocked up an entire stash of NB cloth diapers for my second child. He was such a chunk at birth he could barely fit any of them and grew out of most of the ones he did fit within two weeks!
Want to learn more about newborn diapers and see the ones that I loved using? Check out my post on NEWBORN CLOTH DIAPERS!
These images link to my Amazon and if you purchase a diaper I will get a small commission at no extra charge to you. It's a win win. 😛
Sized Cloth Diaper Brands
AppleCheeks >>> are an example of a sized cloth diaper with several size range options. They have size 1 (7-20 Ibs), size 2 (18-40 Ibs), and size 3 (30-65 Ibs +) for larger sized babies or children with special needs.
You can see by using multiple sized diapers you are able to cover a broader size range than with a standard one size diaper. I absolutely love the look of AppleCheeks, they are so stinking cute. The little gusset ruffles get me every time! 
These are very popular sized diapers! This is my affiliate link image. 
Thirsites Duo Wrap >>> Looking for a budget friendly & well made sized cloth diaper? Try Thirsties Duo Wrap Covers! They are probably my favorite brand of cloth diapers and can fit over prefolds, flats, and fitted diapers.
Using covers with prefolds are one of the cheapest ways you can cloth diaper, which is why some parents only use this system.
Thirsties Duo Wraps come in size 1 (6 -18 Ibs) and size 2 (18-40 1bs). They have a snap rise, allowing the diaper to fit broader size range. These are the standard sizes offered but they also make X-small, small, medium, and large.
Thirsties diapers are made in the USA and a lot of their employees are work at home moms. This is just another reason why I love their products!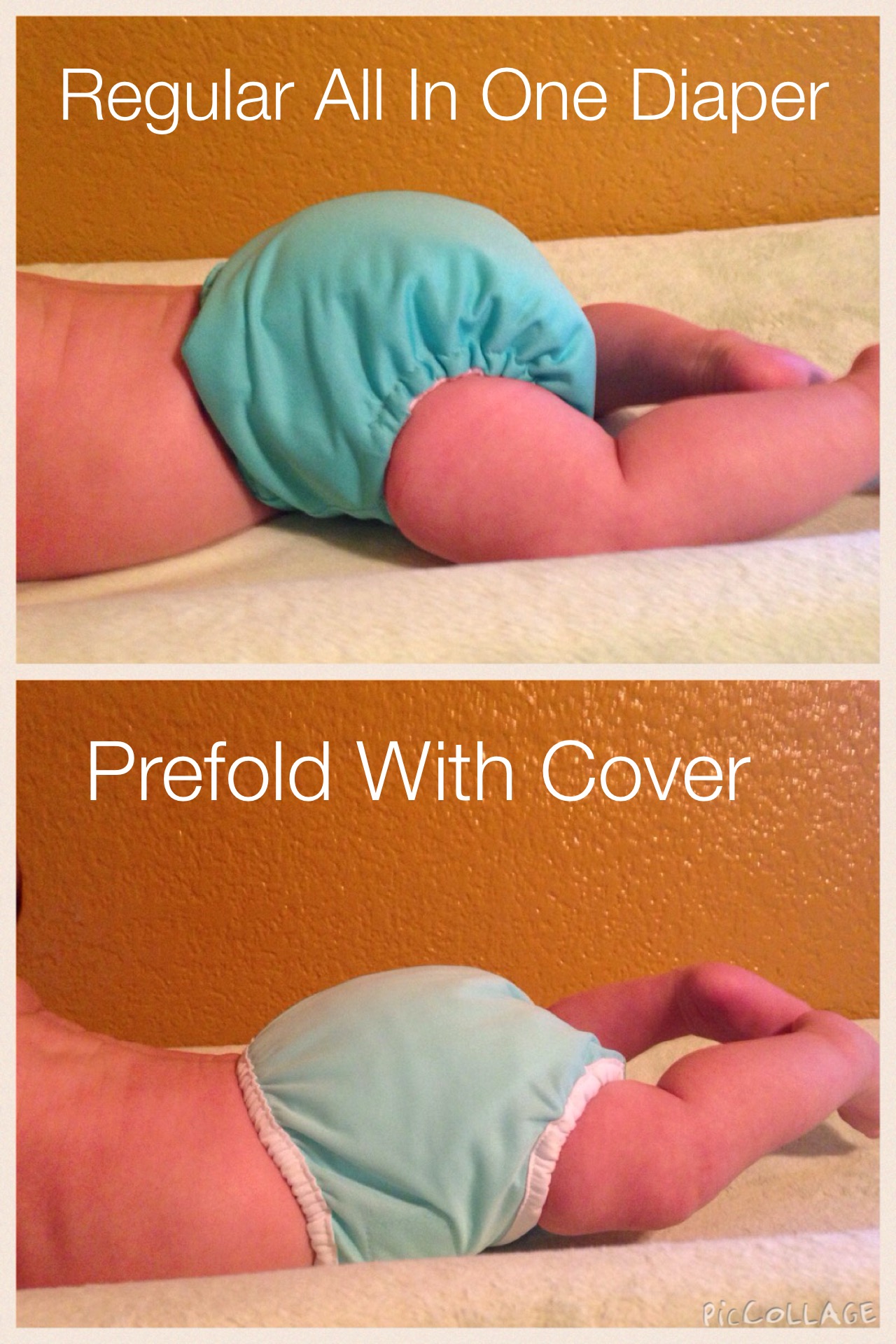 As I mentioned earlier, most of my stash consists of OS but I do have a few sized Thirsties diaper covers. I absolutely love them because they have double gussets in the legs that contain leaks & blowouts like a boss!
You can see the difference in the way the different styles of diaper fit in the picture. The first one is an all in one (AIO) one size diaper and the bottom one is a Thirties Duo Wrap in size 1 with a prefold.
I love both of these diapers but when going out, I'd slap him in a duo wrap/prefold for the best fit possible. Learn 5 Advantages of the PREFOLD diapering system here.
Disadvantages Of The OS Diaper
The main disadvantage of the sized diaper is the cost factor. When your baby grows out of the small size you have to purchase the next size up and so on. That is why one size cloth diapers are so popular.
So to wrap this up, I think it's safe to say there is no right or wrong when choosing your cloth diapering style. It all comes down to budget and preference.
If you are on a tight budget I would either go with all prefolds/covers or mostly OS cloth diapers and a few prefolds/covers. If you have a little flexibility go ahead and splurge. Try out a few brands, test the waters and see what you like. When you find what you love, purchase more of those!
I hope this helps in your decision making.  Do you prefer the sized or OS diaper?  I would love to hear what your favorite type of diapers are.