Post may contain affiliate links. Are you pregnant or planning on breastfeeding? Have you ever noticed just how hard it is to find cute maternity tops? It's even 10 times harder to find quality nursing tops because most stores simply don't sell them! I finally found an online store (PinkBlush Maternity) that has some of the cutest and most fashion forward maternity / nursing tops around. Their clothes are all made here in the USA and they offer a nice selection of plus size which is an added bonus. I have partnered with PINKBLUSH to show you a couple nursing tops that they sent me. Now I can go out and easily nurse my son in style! 🙂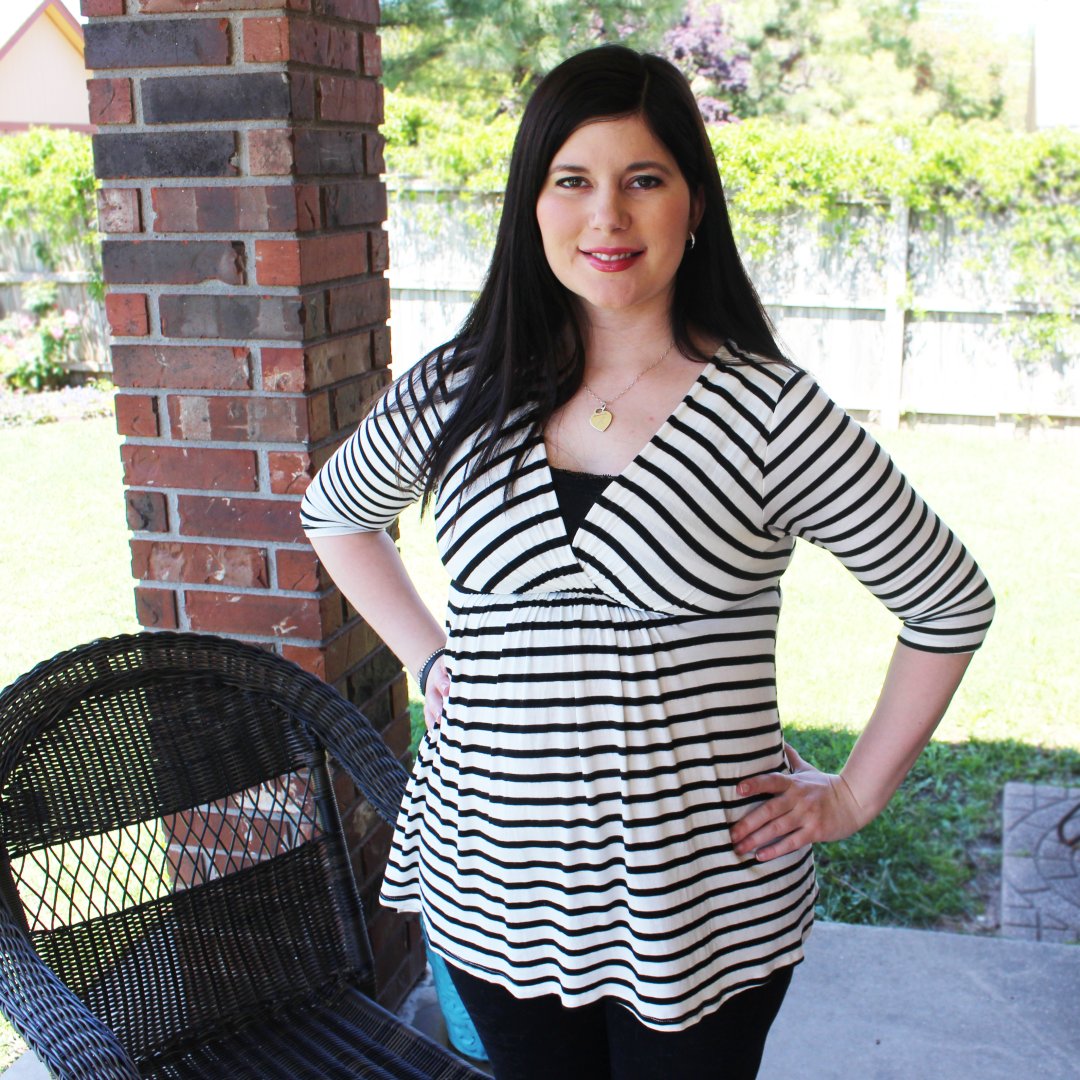 Why You Need Nursing Tops
When I nursed my first son I had a very difficult time. I breastfed for over a year but because I didn't invest in any nursing tops and only maternity clothes, nursing was complicated to do when I would go out in public. I would try to lift both shirts up in the front without exposing my back. Normally I had a tank top under my main shirt and I was always dealing with a nursing cover along with a fussy baby. I think this is one of the biggest reasons I hated breastfeeding so much. It was such a hassle to do in public but now that I have discovered nursing tops, it has been a game changer! Nursing tops make access for my baby so much easier and less of a struggle. I find it is much more discrete than trying to lift my shirt up from the bottom. I am more of a private breastfeeder so I don't like to feel exposed in any way when in public. If I could have done it all over again, I would have stocked up on Pink Blush nursing/maternity shirts from day one!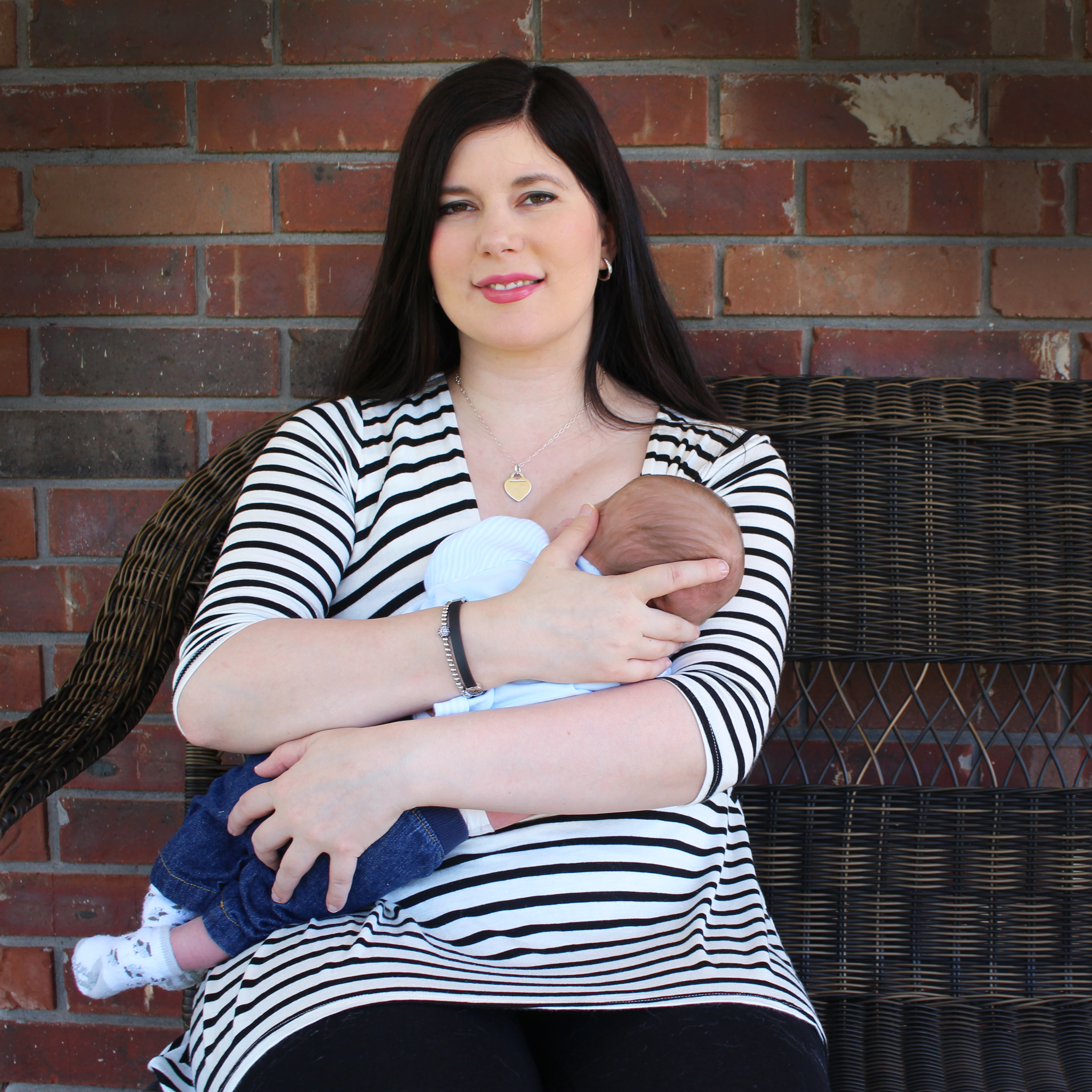 I really like this shirt because it fits me so well and makes nursing very easy. The material is soft, stretchy, and lightweight. It's cool enough for the summer and looks great with pants or leggings. This shirt doubles as a maternity shirt but doesn't look "overly maternity" like a lot of shirts do.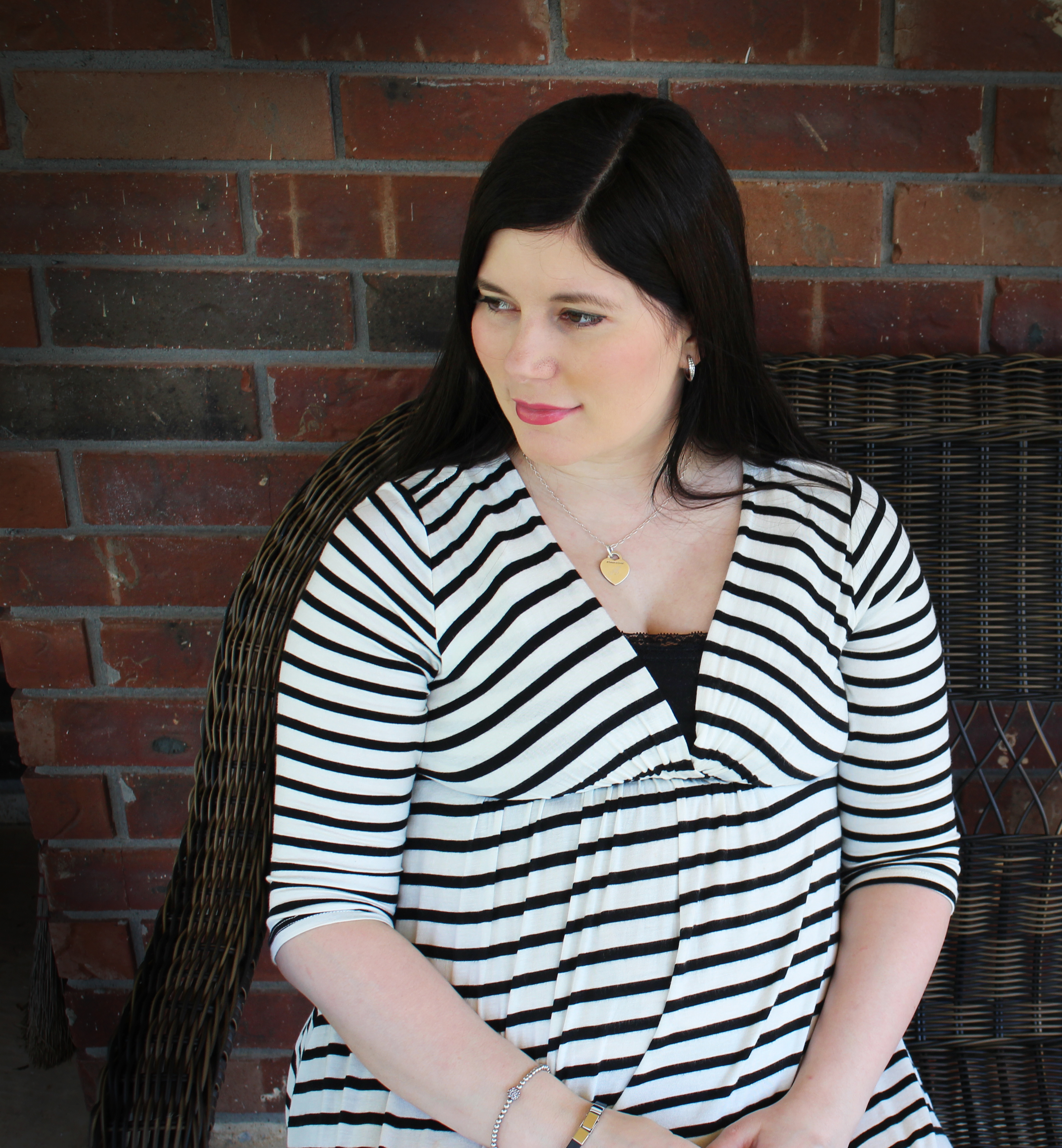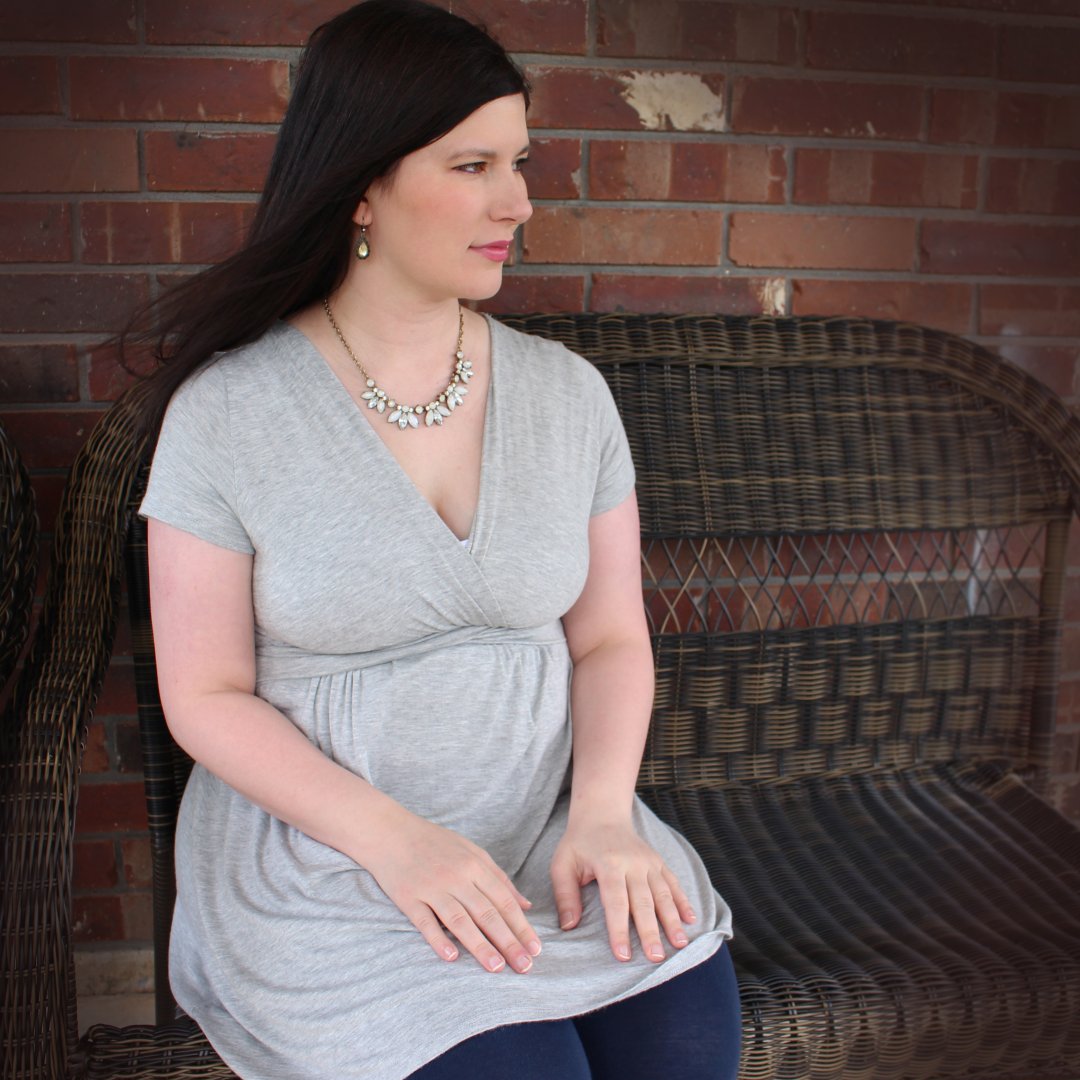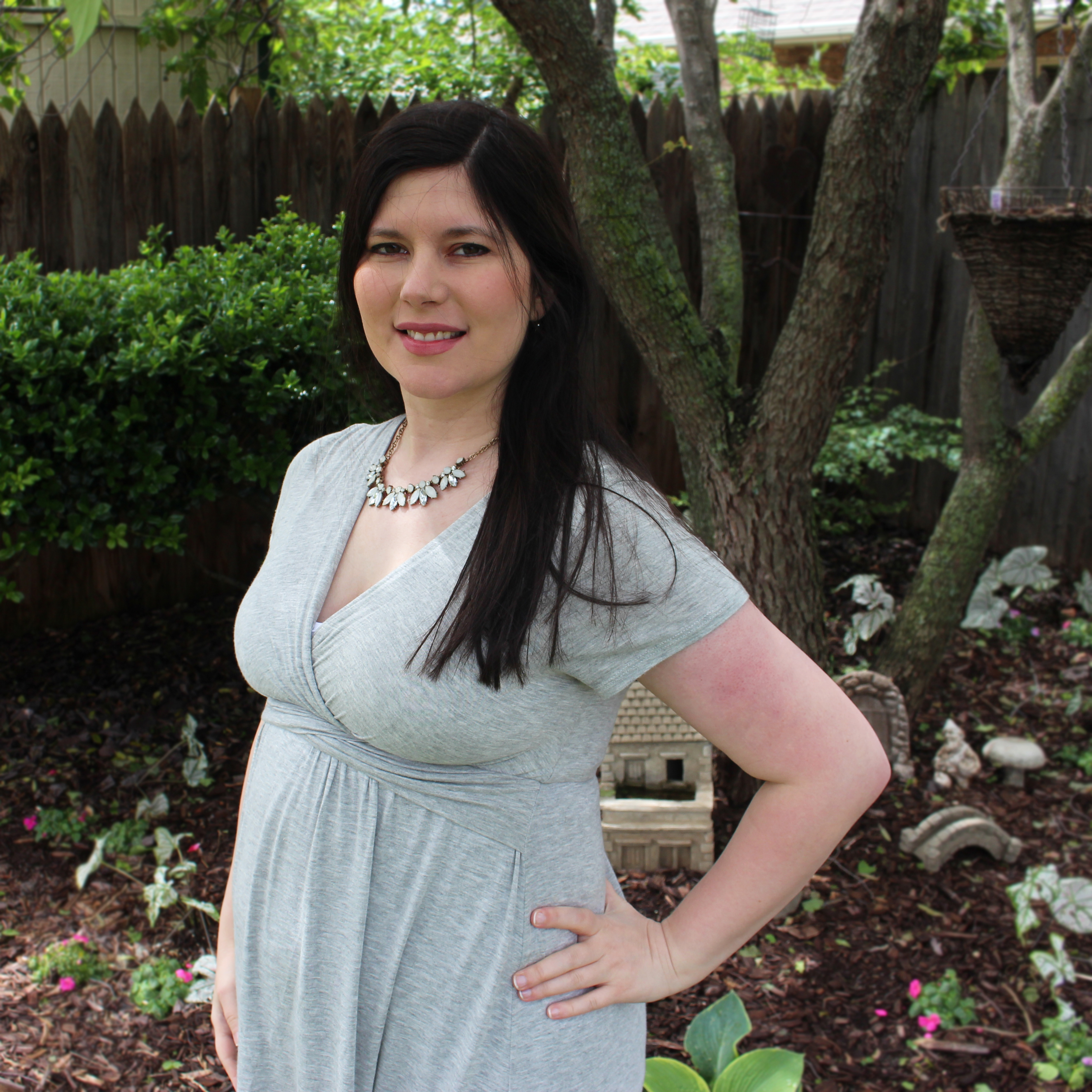 I was really excited about receiving this maternity/nursing shirt because I liked the design in the front and it looked like a good top for the Summer. I love the gray color as it can go great with colorful leggings, solid color tights, or skinny jeans. The material is very soft and a bit stretchy and it fit me really well in the top.
Why PinkBlush Maternity?
Before I knew much about PinkBlush I went on Amazon and ordered a nursing top and matching nursing robe. They were both cheap and while they did make breastfeeding easier they exposed my tummy. They have two slits on each side that don't cover as well as I would have liked. What I love about PinkBlush is that their clothes are quality, made in the US, and fashion forward. You're not having to sacrifice style in order to be a nursing mom. Their tops don't expose my sides and the best part is, is that all of their nursing clothes double as maternity clothes! This will allow you to wear the clothes much longer and get more bang for your buck!
If you are interested in trying out PinkBlush Maternity Clothes, you can click on any of my affiliate images. I do make a small commission if you purchase any of the products and it is at no extra cost to you!