Enter before the time runs out!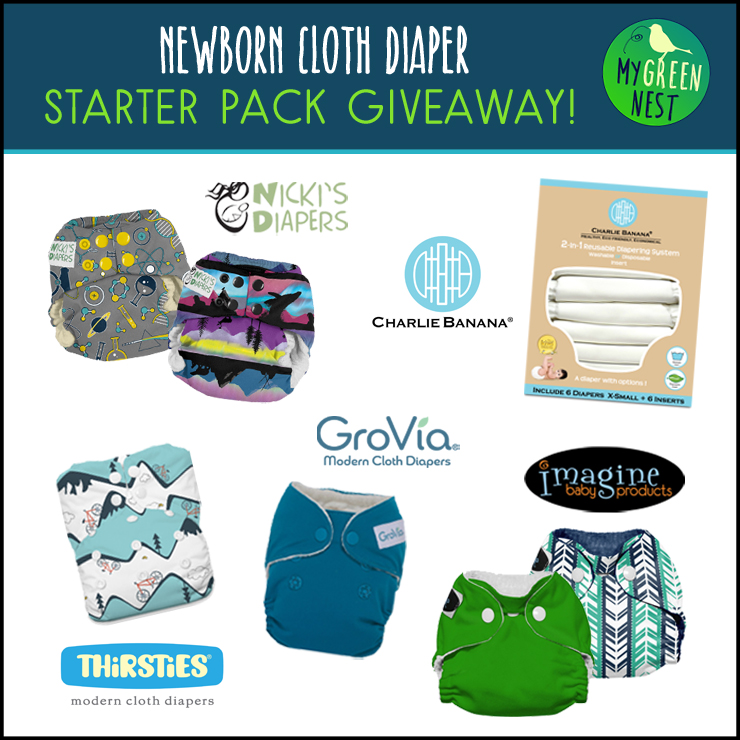 The Deets On What All You Get!
Sponsor #1 Charlie Banana
One lucky mama will receive a SIX PACK of the X-Small Charlie Banana Sized Diapers in white! Now, this isn't part of the giveaway but I would appreciate it if you could show them some love on their FACEBOOK. They never hold back when it comes to giving things away to my Nesties! $95.99 in value.
Sponsor #2 GroVia
One lucky mama will receive a GroVia Newborn AIO in the new blue color "Abalone." $15.95 in value.
Sponsor #3 Thirsties Baby
The winner will have their choice between a Newborn AIO or a regular Thirsties One Size AIO in the print "Mountain Bike." $15.50 in value.
Sponsor #4 Nicki's Diapers
Nicki's Diapers will be graciously giving away two Newborn Bamboo AIO Diapers in the snap closure and print "Northern Lights" & "Whiz Kid." $27.90 in value.
Sponsor #5 Imagine Baby Products
The winner will get to choose Two Newborn Stay Dry AIO Diapers in any closure and available print! $11.95 in value.
Giveaway #1 – Twelve Newborn Cloth Diapers ~ $167.00 In Value!
Open To USA & CANADA ONLY: Click the giveaway image above to enter this giveaway. Remember to (confirm your email) or you will not be entered!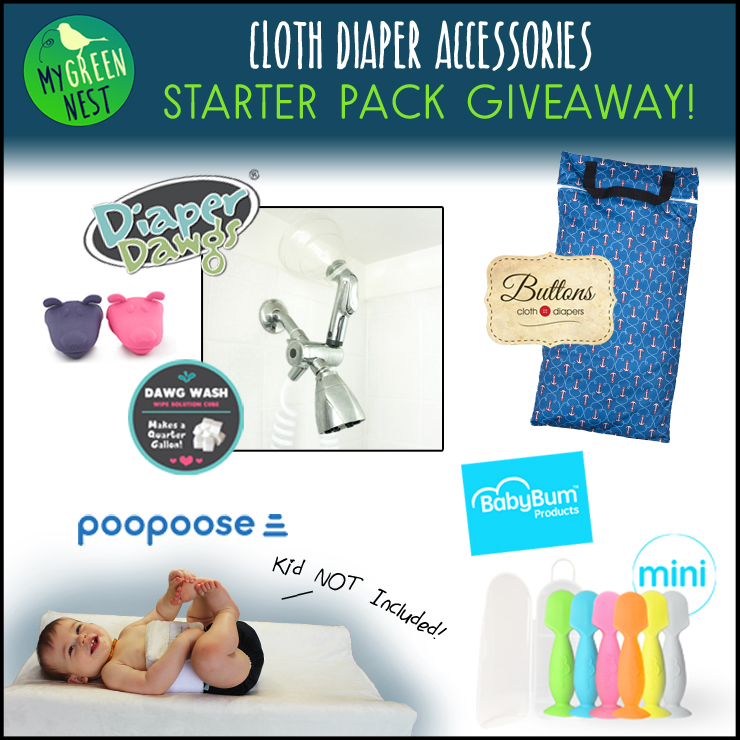 The Deets On What All You Get!
Sponsor #1 Diaper Dawgs
One lucky mama will receive a Hot Dawg Diaper Sprayer from Diaper Dawgs (which hooks up to your shower and doubles as a diaper sprayer!) This is perfect for small bathrooms. $49.95 dollar value.
Diaper Dawgs is also giving away a pair of their handy pink/purple Diaper Dawgs Finger Guards. These are great for removing soiled inserts and protecting your hands when spraying off diapers. $7.95 dollar value.
And last but not least Diaper Dawgs will also be giving away a quarter gallon of their Dawg Wash. Dawg wash is great for making homemade cloth wipe spray that is gentle and cleansing for baby's bum. $2.95 dollar value.
Sponsor #2 Buttons Cloth Diapers
Buttons Cloth Diapers will be giving away one of their diaper pail liners. Winner gets to pick any color/print that is in-stock. These are awesome waterproof bags for storing dirty diapers until you are able to wash them. $15.00 dollar value.
Sponsor #3 Poopoose
Poopoose will be giving away one of their patented Poopoose changing pads along with an in-stock changing pad cover. These changing pads are wonderful for keeping babies safe and keeping them from wiggling around during diaper changes. $84.98 dollar value.
Sponsor #4 BabyBum Products
BabyBum Products will be giving away one of their orange or yellow Mini BabyBum Diaper Cream Brushes. These little gadgets are great for keeping your hands clean and wiping diaper cream evenly on your babies bum! $9.99 dollar value.
How To Enter!
Giveaway #2 Cloth Diaper Accessories ~ $170.00 In Value!
OPEN TO USA ONLY: You must follow the instructions exactly in order to be entered into this giveaway. All you need to do is pin the image (The red one that says All About Newborn Cloth Diapers) at the bottom of this post. Then leave a comment on this blog post and tell me if you have ever used newborn cloth diapers before and what your Pinterest username is.
Good luck, I can't wait to hear from you guys!