If you cloth diaper or have any experience with it, you will ultimately come across stains. Don't you worry, you can save that grungy diaper that looks like something straight out of a horror movie! If you are wondering how to get stains out of cloth diapers and inserts, I will show you step by step how to do just that along with some great preventative tips! 
For busy, working, or on-the-go moms here are some quick spot cleaning tips!
Prevention: 
The best way to combat stains is to prevent them in the first place. An easy way to do that is by simply using a diaper liner. You can use a disposable or reusable diaper liner. The disposable liner will be more convenient for working mothers and keep most of the poo off of your diaper. That means you will not have to spray your diaper as often and will help keep your diapers stain free. If your baby is 100% breastfed you may want to use a reusable diaper liner. To find out more about the differences and advantages of the two types of liners, you can read my post on DIAPER LINERS!
Laundry Day – Cleaning Cloth Diapers:
As you are hanging your cloth diapers to dry or throwing them into the dryer, check for stains or spots and set the dirty ones aside. (I will usually find one diaper that has a new stain or smudge) Grab the diaper or diapers that you have set aside and rub a little bit of OxiClean and hot water on them. If the stains have set in, soak it in your sink or a tub for an hour or two. After your spot cleaning or soaking, toss the diaper into your diaper pail for the next laundry day. This is a quick and easy way that I keep all of my cloth diapers spotless!
Monthly – Cleaning Cloth Diapers:
Rinse and wash your stained diapers on a light cycle to quickly get them clean. Then proceed to rub the stained areas with OxiClean and Dawn dish soap. Proceed to soak them in your washing machine (or bath tub) and add a couple scoops of OxiClean. Add more scoops if you have a lot of diapers or inserts. After they have soaked, wash them on your normal cycle. You can also add half a cup of vinegar in place of a softener to help rid your diapers of odors.  
Before you sell your diapers – Cleaning Cloth Diapers:
Stains may or may not be an issue with you.  Some people will only remove stains when they are pretty bad or they will wait until they are ready to sell their diapers.  If that is the case then you will want to follow the steps in my video  below to get them looking brand new again.  That way, you make the most bang for your buck when you are ready to list them for sale!  Please note, the stains will be a lot harder to remove if you don't spray your cloth diapers or spot clean them from time to time.  
Remember to read each one of your cloth diaper warranties before applying these products. Some washing machines will void the warranty if you use even a drop of Dawn dish soap on them. If that is the case, be sure to completely rinse off your diapers before washing them!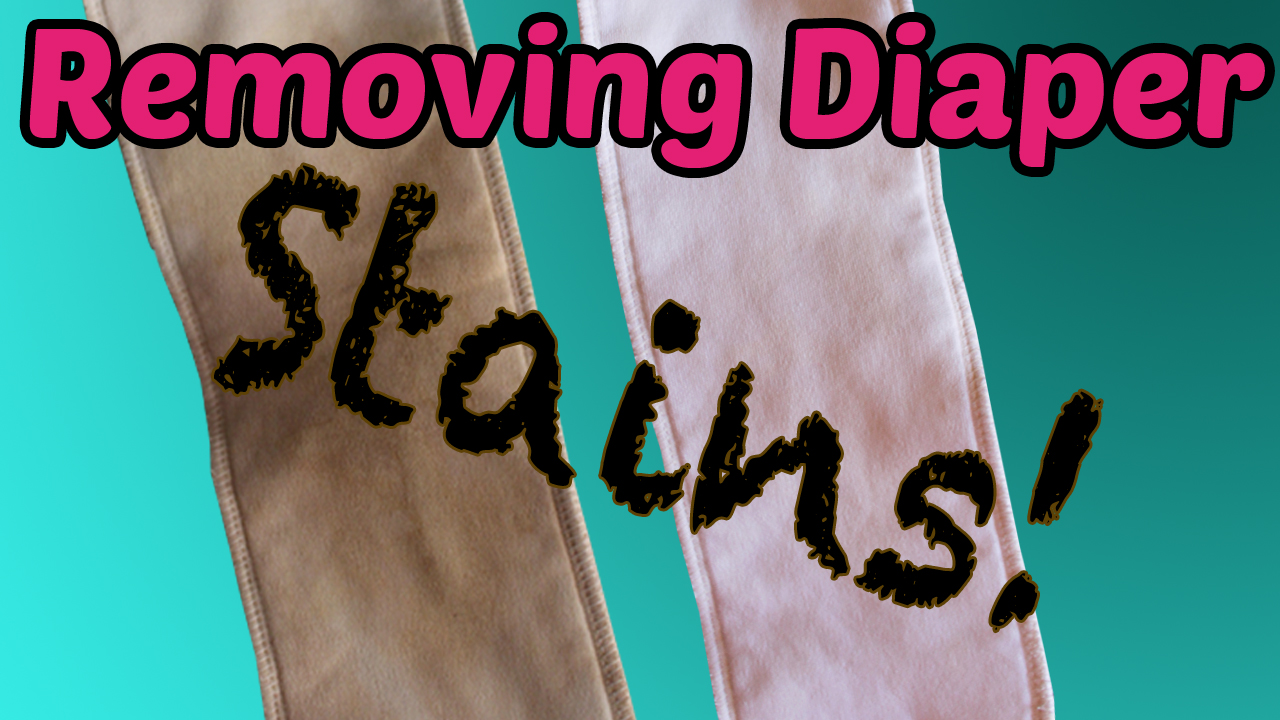 If you enjoyed this post, here is an image you can pin or share!