Post may contain affiliate links. So you're pregnant and planning on breastfeeding. You're scrolling through the baby aisle all excited like any new and expectant mom. Then you stumble onto the breast pump section and almost pass out from sticker shock. Who knew that breastfeeding could be such an expensive sport? 
That's where I come in. I'm going to show you how you can obtain a free breast pump through insurance. Don't have insurance? No biggie, I'll guide you on a few other ways you can access a pump along with free lactation services. I've also included a complete review of my tried and true Medela Pump In Style Advanced along with a free downloadable for all of my nesties!
Before I show you how to get a free breast pump, I want to show you a quick review and tutorial of my Medela Pump In Style Advanced. I have used this bad boy with both of my babies. 
Click the image above to play the video.
Medela Pump In Style Advanced Review
Positives:
It's not massive, like the Medela Symphony. It's a good size with quite a bit of power behind it. It's pretty easy to use and is compatible with a ton of different bottle brands. You can usually buy an adapter if it's not compatible with your brand of bottle. Unlike a simple hand pump, You can pump two breasts at the same time which is a huge time saver. And if you use a handy dandy pump bra, you will be hands-free so you can use that time wisely and follow me on INSTAGRAM. 😁  
The Medela Pump In Style is completely automated saving your hands from an unnecessary workout. The efficiency and design of this pump make it ideal for pumping at work or having at home as a backup.
Cons:
It's not as mobile friendly as a hand pump such as the MEDELA HARMONY for example. Unless you have the battery pack attachment, you always need a plugin for it to work. Because it is mechanical, you will have to be more careful with it compared to a simple hand-pump. It's quite a bit louder compared to the symphony or the harmony pump. I swear the thing says "Robert, Robert, Robert" when I'm pumping late at night. 
Overall the Medela Pump In Style Advanced works really well at what it's intended to do, which is suck the life… (breast milk) out of ya! 
Why Medela?
Why I chose Medela over all other brands of breast pumps:
When I first decided to breastfeed I had no clue where to start, what pump brand to go with, or how to turn one on. I ultimately decided to go with Medela after reading tons of raving reviews.
When we were in the NICU with my first they gave us two big bags of Medela pumping supplies to go with my pump. They also freely supplied Medela pumps to use during our stay. I also received more Medela supplies when I had my second at another hospital. Since most hospitals provide Medela pumps it made sense (for me) to go with Medela as well.
This isn't to say that Medela is the ONLY brand you should consider, this is just the brand that I chose to go with and have been happy with so far.
Accessing A Free Breast Pump Through Insurance
Since 2012, Insurance's are now obligated by law to provide you with a breast pump along with lactation services. If you are covered by an older plan, call and see if they will work with you. Sometimes they will, especially if your child is premature or has medical issues.
All you need to do is call your insurance and ask a few questions. Luckily for you guys, I created a cute little cheat-sheet that you can download and save to your phone. I've included nine questions that you NEED to ask your insurance so you will know exactly what benefits are provided to you. Save the cheat-sheet to your phone (as an image). Whip it out when you're on the phone with your insurance so you don't forget any details. The last thing You want is to have to call them back because you forgot to ask X, Y, or Z.
Ain't nobody got time for that!
Going Through Breast Pump Suppliers
Sometimes your insurance will tell you that you are not covered for a pump or you have to pay for a lot of it. If your plan isn't a grandfathered-in plan or an older one, you may try contacting a supplier like Edgepark. You can sometimes get a breast pump through a pump supplier without even having to go through your insurance. You will need to have your insurance card handy when you talk to them. The suppliers will contact your insurance directly and send you a pump.
My experience has always been to call my insurance in which they gave me the phone numbers of the suppliers they worked with. I then called a supplier (in both of my cases I used Byram Healthcare) and they sent me a free breast pump exactly 30 days before my due date. It was a pretty simple and easy process. That is how I received both of my Medela Pump In Style Advanced pumps %100 Free. Can you imagine if having a baby was that simple? 
Breast Pump Suppliers
Here are a few breast pump suppliers you can try contacting if you run into any issues with your insurance. Some may work with your insurance and some may not. Click on each one of you want to learn a little more about each supplier.
See, I am so good to Y'all I even included their contact information and links to their websites! 
Edgepark Medical Supplies
About Edgepark 
Edgepark handles contacting both your health insurance provider and your doctor on your behalf. This usually means your breast pump is shipped to you with minimal or no out-of-pocket expense.
Contact Information 
To quickly find information on obtaining a breast pump through Edgepark and more, click HERE.
Their toll-free number is 1-888-394-5375. They are open M-F from 8 am to 9 pm and Sat 9 am-3 pm EST.
Byram Healthcare
About Byram 
Byram Healthcare is proud to support the breast pump benefit of the Affordable Care Act. with Byram, you are eligible to receive an insurance covered breast pump at no cost from leading manufacturers that are covered by your insurance plan. The specific electric breast pump available to you depends on your insurance coverage. Click HERE to get started with Byram Healthcare!
Lucinacare
About Lucina 
Lucina Advanced Care specializes in connecting moms with breast pumps through insurance. They have a lot of information on different types of pumps on their website.
Contact Information 
Customer Service #1-888-809-9750 Open M-F from 9 am to 12 am EST. Sat-Sun from 10 am to 6 pm.
For more information, you can email info@Lucinacare.com 
Aeroflow Healthcare
About Aeroflow 
Aeroflow is another company that you can use to get a pump with your insurance. However, they also offer pump upgrades to women who only qualify for a manual pump with their insurance. If you have no insurance and don't qualify for WIC, you can purchase a pump through Aeroflow at a much better rate. They are a supplier so they can attain pumps at a much lower rate than you would find at a large retailer like Target or Walmart.
Picking The Right Hospital
All of the hospitals I used were breastfeeding friendly. They had certified lactation consultants on staff 24/7. The consultants were ready to help me with nursing and using my pump during both of my deliveries.
Researching your hospital beforehand to make sure its breastfeeding friendly is a good idea. I believe most hospitals are BF friendly nowadays but it doesn't hurt to check. At the bare minimum, you want a hospital that will provide you with a breast pump during your stay and a consultant to help you with your first latch.
Ask and you shall receive
Some hospitals will go beyond and give you a ton of breastfeeding supplies along with a hand pump. Although, you may have to request for extra pumping supplies to get them. 
I also highly recommend attending a breastfeeding class if your hospital provides it and utilizing a lactation consultant. Not only did utilizing these two things help my breastfeeding get off to a much better start, I also learned a lot in the process. 
What If I Don't Have Insurance?
If you don't currently have access to insurance or it doesn't cover free breast pumps, don't give up. I'm going to show you other ways to access a breast pump either free of charge or a lot cheaper. I'll also show you where you can get free BF support!
WIC
If you qualify for WIC (Women, Infant, and Child) they may help you obtain or rent a breast pump. They are trained to help you with your breastfeeding needs and provide qualifying families with nutritional foods as well. To see if you might qualify, click HERE. To find a WIC location near you click HERE.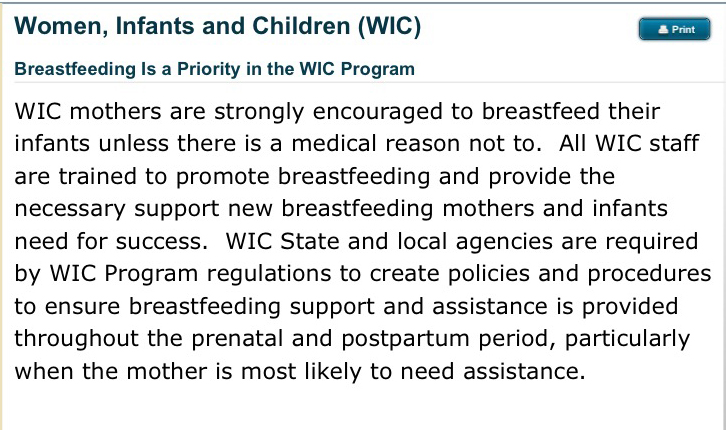 Aeroflow
Like I mentioned earlier, Aeroflow offers pump upgrades to women who only qualify for a manual pump with their insurance. If you have no insurance and don't qualify for WIC, you can purchase a pump through Aeroflow at a much better rate. They are a supplier so they can attain pumps at a much lower rate than you would find at a large retailer like Target or Walmart. 
Click the image above to play the video.
eBay, Craigslist, or Facebook Market
So this may be an obvious one but I decided to slap it on the list anyway. When I was pregnant with my first I completely snubbed my nose at the thought of buying used breastfeeding supplies. Learn from my expensive mistake; don't!
You can find amazing deals on used pumps and supplies online. There are moms who get the entire shebang – a pump, a bag, a million breast pump parts and then go back to work and quit nursing. They might use their pump a handful of times and then want to get rid of it all.
Breastfeeding crap can take up a lot of space take it from me. Right now I have pump supplies claiming 3 rooms of my house! This is one reason people are so eager to get rid of it all.
Worried about the sanitation factor? I used to think it was gross buying used parts but that's kind of silly when you think about it. Breastfeeding supplies can be easily sanitized by boiling or microwaving in Medela steam bags. There will be no germs once you boil all of the parts!
Grant it, there are some pumps that are only one-time-use like Medela. If the pump has an open system your milk could get contaminated. Pumps like Ameda and Hygeia or any manual pumps should be ok to buy used.
Even if you have to purchase a new pump, you can get great deals on used pump supplies/accessories online. That alone will save you some serious $$$. 
Breastfeeding Support
Breastfeeding Hotline
This US based helpline provides information, education, and support for women who want to breastfeed. Callers have access to the most current breastfeeding information and support from a helpline volunteer who is an accredited La Leche League Leader. Callers receive contact information for local LLL Leaders and Groups. This hotline has live operators during regular business hours and callers can choose to leave a voicemail at any time. La Leche League Breastfeeding Helpline-US: 1-877-452-5324
Facebook groups
There is a page on Facebook simply called Breastfeeding and they have a group you can join for support and advice. You can get on FB and type in breastfeeding in the group search and a million groups on the subject will pop up. Joining a breastfeeding Facebook group is a great place to get advice and share your breastfeeding journey with other moms. If you want professional advice, however, make sure you talk to a certified lactation consultant. 
What To Do With Your Pump When You're Done
By the time you are finally finished being a slave to your breast pump, you might be tempted to take out your aggression on it like these ladies did.
Poor pump, it didn't stand a chance against these thugs! 😛
In all seriousness, there are a few ways you can dispose of your free breast pump after you are through with your breastfeeding journey. Some pumps offer a recycling program like the Hygiea and the Medela.
You are not recommended to donate or sell used open system breast pumps because of the milk contamination risk. However, some mothers have no issues with this. It's best to try and recycle the pump if possible or discard. I would, however, recommend on selling or donating the parts/attachments since they can be thoroughly sterilized.
*If your pump is older the motor will probably wear out soon. It could cause pumping issues for the next mother if you were to donate it.
Thankfully, there is a lot more breastfeeding support available and many avenues to obtain a free breast pump if you just spend some time searching. No mother should be without a pump or lactation help when she desires to nurse her baby.
If you found this post useful, don't be stingy like my two-year-old with his peanut butter balls. Share the word! Us Mamas need all the help we can get!