Post may contain affiliate links. Are you cloth curious but intimidated by the idea of dealing with the doo? If you are looking for the perfect solution help you cloth diaper you must try the brand new "clear " spray collar / diaper sprayer combo from Diaper Dawgs! This is the best cloth diapering accessory I have ever used and the easiest spray shield to store. I don't know how people cloth diapered before this amazing thing was invented! 
Click the image above to play the video.
About The Arctic Wolf Spray Collar
The ARTIC wolf spray collar is the newest sprayer shield from Diaper Dawgs. It's almost completely clear with a touch of glitter helping you to see exactly what you are doing. It comes with the diaper dawgs diaper sprayer and is designed to only fit that sprayer. Once you put the collar onto your sprayer there is no additional assembly required. You simply grab and spray your cloth diapers or pads. The spray collar is the easiest to store and the smallest spray shield on the market today.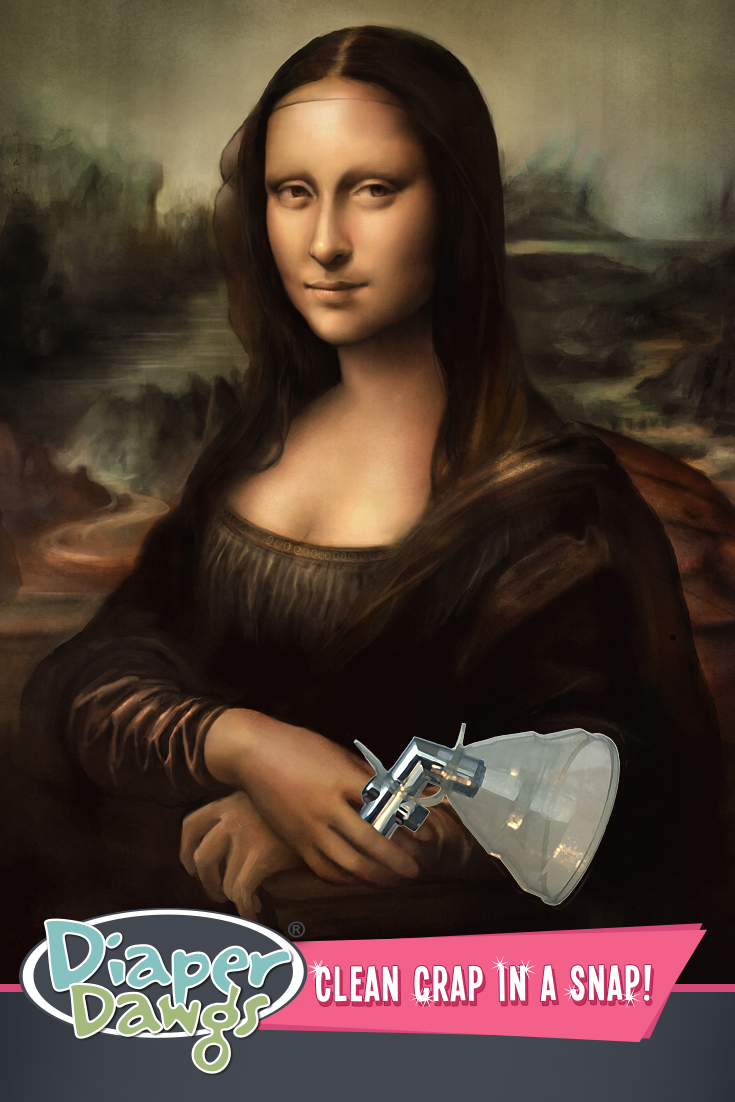 About Diaper Dawgs
Diaper Dawgs is one of my favorite cloth diapering companies to date. Aisha Sequeira started Diaper Dawgs in 2013 and has since created several innovative cloth diapering products that help you deal with the doo. Her products have made my cloth diapering life a lot easier and more fun. Her company has a sense of humor mixed with a love for dogs which you will notice throughout all of her social media channels. Aisha is also a graphic designer and inventor.
< Even the Mona Lisa loves Diaper Dawgs! 🙂
My Review
I absolutely LOVE the all in on sprayer package from Diaper Dawgs. This is the best set-up for cleaning diapers I have used so far. I have a Spray Pal that is very bulky and I do not like having to reassemble every time I need to spray my diapers. I have no problems getting the poo to come off with the wolf or "clear" collar and the powerful diaper sprayer. It also works great on my cloth pads. I think the collar and the sprayer look nice and sleek in my bathroom. I can tell that the Diaper Dawgs sprayer is much higher quality than my DIY Diaper Sprayer was.
The Downside
The wolf collar is only compatible with the diaper dawgs sprayer and a few others. It's not compatible with most of your DIY diaper sprayers like I mentioned earlier. The spray collar is a little tricky to learn and in my opinion you need a clipboard for back support or you will have to hold the diaper yourself. You do not have the option to stretch out the gussets like you do with the DIAPER DIAMOND but the sprayer is so high powered it does a really good job. I believe this product is nearly perfect and give it a 9/10. This diaper spraying combo has made cleaning crap super easy and doesn't take up very much storage space!
History Of The Spray Collar
Here you can see the progression of the spray collar. The first two were the original design. They were a little on the small side so Aisha ended up designing the rainbow version or "mutt." It was about the size of a CD and a little bit thicker than the new clear version. After more feedback in 2015 the clear spray collar took the stage and replaced the mutt. She wanted a collar that allowed users to see what they were doing when dealign with the mess. She named it the Arctic Wolf and designed it with glitter to add that special Diaper Dawgs touch!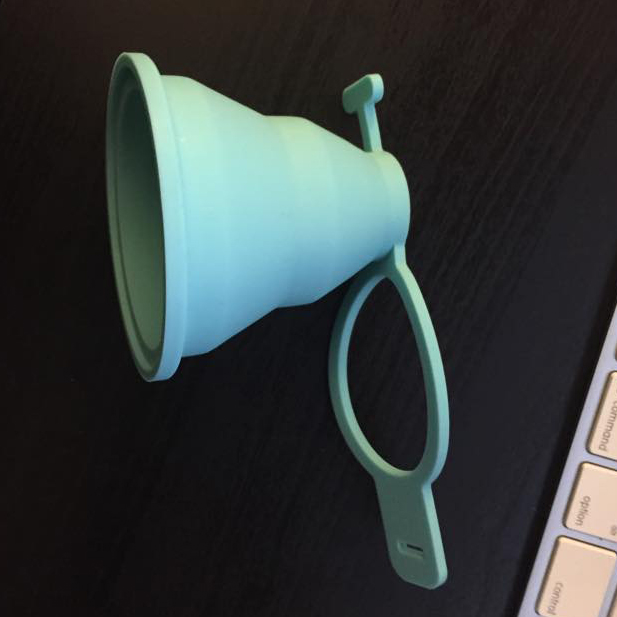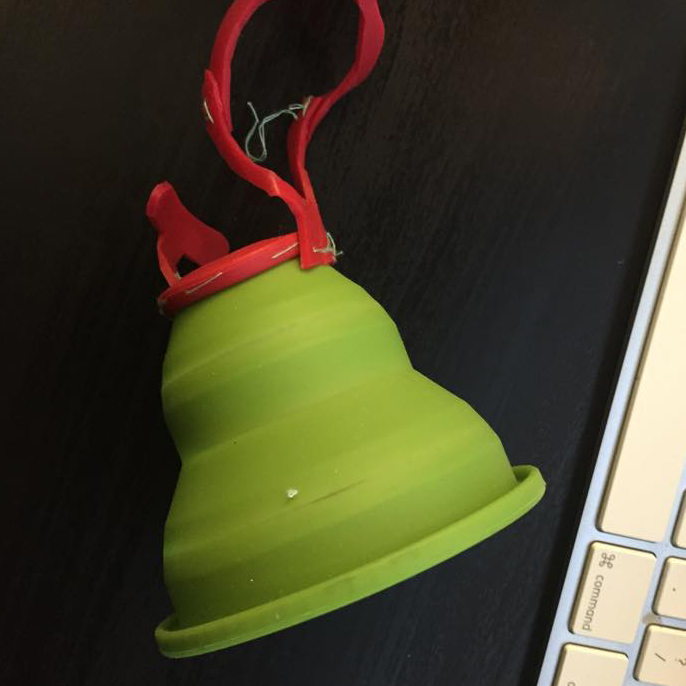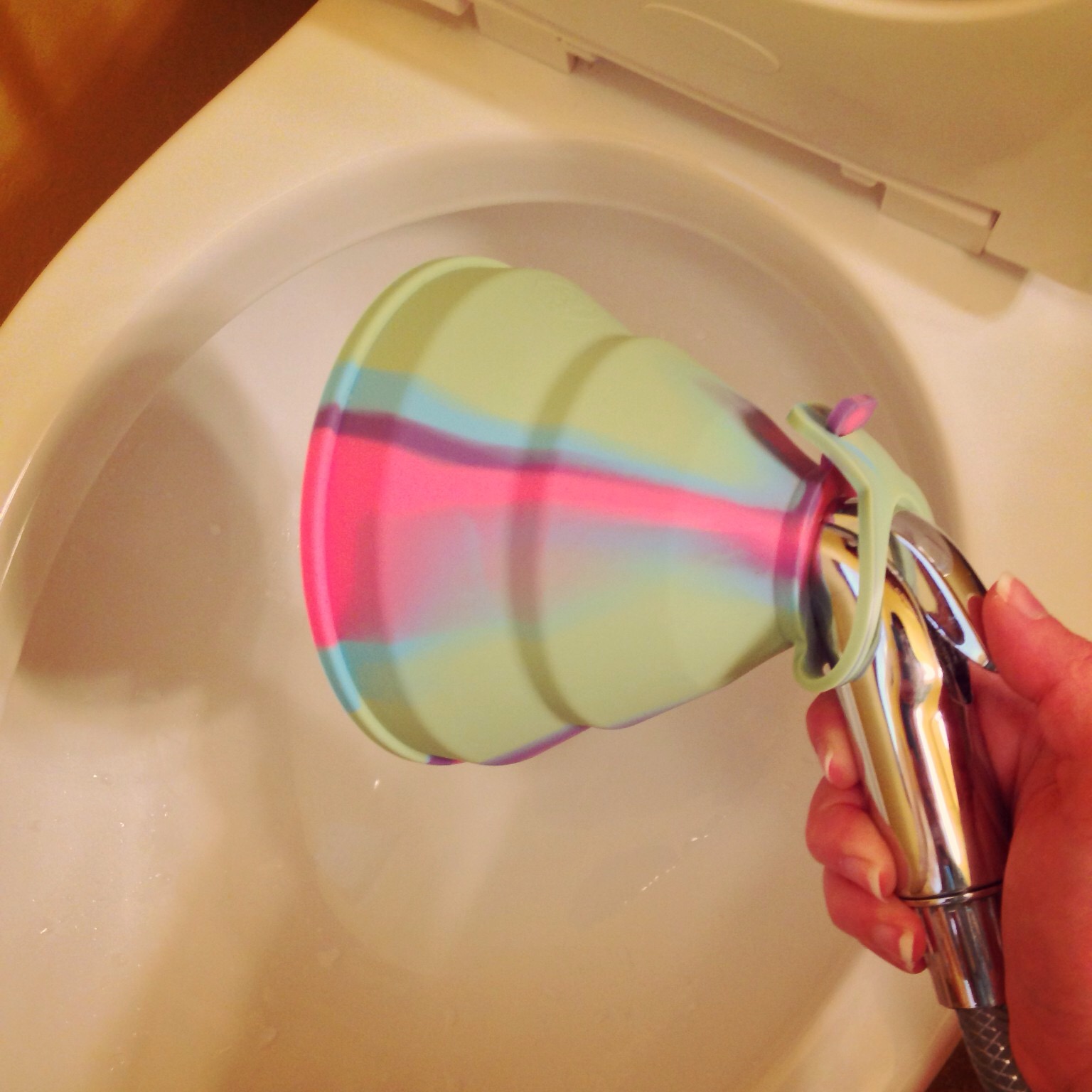 Why Do I Need To Spray?
If your child is 100% breastfed you don't have to spray your diapers you can dump them straight into the wash. Breastfed poop is 100% water soluble. But after the 6 month period when your baby gets on solids you will need to discard most of the poo before you stick it into the wash. I prefer to spray my cloth diapers the entire time because it keeps your diaper pail from stinking and prevents stains.
Do I Need A Spray Shield?
You do not need a spray shield to cloth diaper however they can be extremely convenient and they take a lot of the "dirty" work out cleaning your diapers. You can use spray shields with flats, prefolds and soiled baby/toddler clothes. If you want to learn more bout other types of spray shields, check out my post on SPRAY SHIELDS.