Post may contain affiliate links. Hello Nesties, do you love everything that's pink, lavender, and topped with exploding sprakles? Well, I think you are going to enjoy my newest tutorial then! as usual, it's over the top and is the "girl version" of my cloth diaper tricycle cake. All you need to do is follow my step-by-step tutorial and you will have the most adorable baby shower gift EVER! I searched the internet a long time looking for a cloth diaper cake tricycle tutorial and found none, although there were plenty of disposable cake tutorials. That is when I decided to create my own and share. After a few months of gathering supplies and testing, I created a bad boy and princess bear tricycle. This little princess will help any new mom jumpstart her cloth diapering stash with elegance and grace! 
Cloth Diaper Supplies
Ok, so I am not going to lie… this is a big, expensive, and very involved diaper cake to make but it's very doable! The price of making this diaper tricycle is going to cost you anywhere from $150.00 to $200.00 depending on where you get your supplies and if you already have some of the items around the house. You can go in with a friend or two to cut costs and even make the cake together. Just try not to drink at the same time or you might end up with something completely different than what I am going to show you! For your convenience, I have hyperlinked in green a few of the supplies that are on Amazon. I do make a small commission if you actually purchase any of the supplies through my link and it's no additional cost to you. And when I say small I mean it's so small it's actually kind of pathetic … but hey, every penny counts right?
Basic Supplies
2 small safety pins (one inch in length)
1 pack of small clear rubber bands
Several larger rubber bands
Large bread tie (optional)
One paper towel roll
3 toilet paper rolls
1 long 28-29 inch flower from hobby lobby (Get pink or lavender)
Mini flashlight from the dollar tree
3 small Gator clips about (3/4 of an inch)
Strip of pretty ribbon or tool. (Pink or Lavender)
1 Teddy bear or stuffed animal 
3 stretchy Baby Headbands in pink or lavender, I got mine from Hobby Lobby
Diaper Supplies 
2 Muslim Swaddle Me Blankets (Pink or Lavender, 40 X 40 in)
12 Pack of OsoCozy PREFOLDS SIZE MEDIUM (13-28 pounds) 
Osocozy Dyed Birdeye Flat Diapers – 4 pack (Violet)
Diaper Dawgs HOT DAWG SPRAYER
Diaper Dawgs FINGER GUARDS (Pink & Purple) 
One 10 pack of hot pink and one 10 pack of light pink baby washcloths from HIPPO KISSES. 
1 Pink or lavender Wet bag, I'm using one from Alva Baby
Boingo Baby Fasteners in Punky Pink or Disco Glitter
Click the image above to play the video.
Click the image above to play the video.
What All Comes In This Cake!
Here is a quick run-down of everything that is included in this bomb-tastic diaper cake and why this cloth diapering mother-to-be will be a lucky lady to receive it!
With this one awesome diaper cake, the new mom will receive a set of prefolds, which can be used as burp cloths or cleaning rags.
One set of flat diapers which are very versatile and will last virtually forever.
3 Baby headbands that she can use on her precious baby girl. 
A diaper sprayer that hooks up to the shower and cleans dirty diapers in the toilet!
A waterproof bag that holds several soiled diapers for traveling, and can be used for wet clothes, makeup, bathing suits, or whatever!
Twenty thick baby washcloths which have infinite uses like cleaning dirty spills, faces, and other fun surprises. They can be used as cloth wipes, washing baby, or to clean yourself after pumping.  
One set of finger guards that keep fingers from getting dirty when dealing with poopy diapers and pulling out soiled inserts.
As you can see from the list above, the mother is basically going to be set-up for cloth diapering. The only things left she will need to get are diaper covers, a diaper pail / liner, and maybe a few other cloth diapers. This cloth diaper cake will really help get a jumpstart on her diaper stash and will probably be one of the cutest and creative gifts at the shower!
This tutorial is 100% original and created for my blog, MyGreenNest.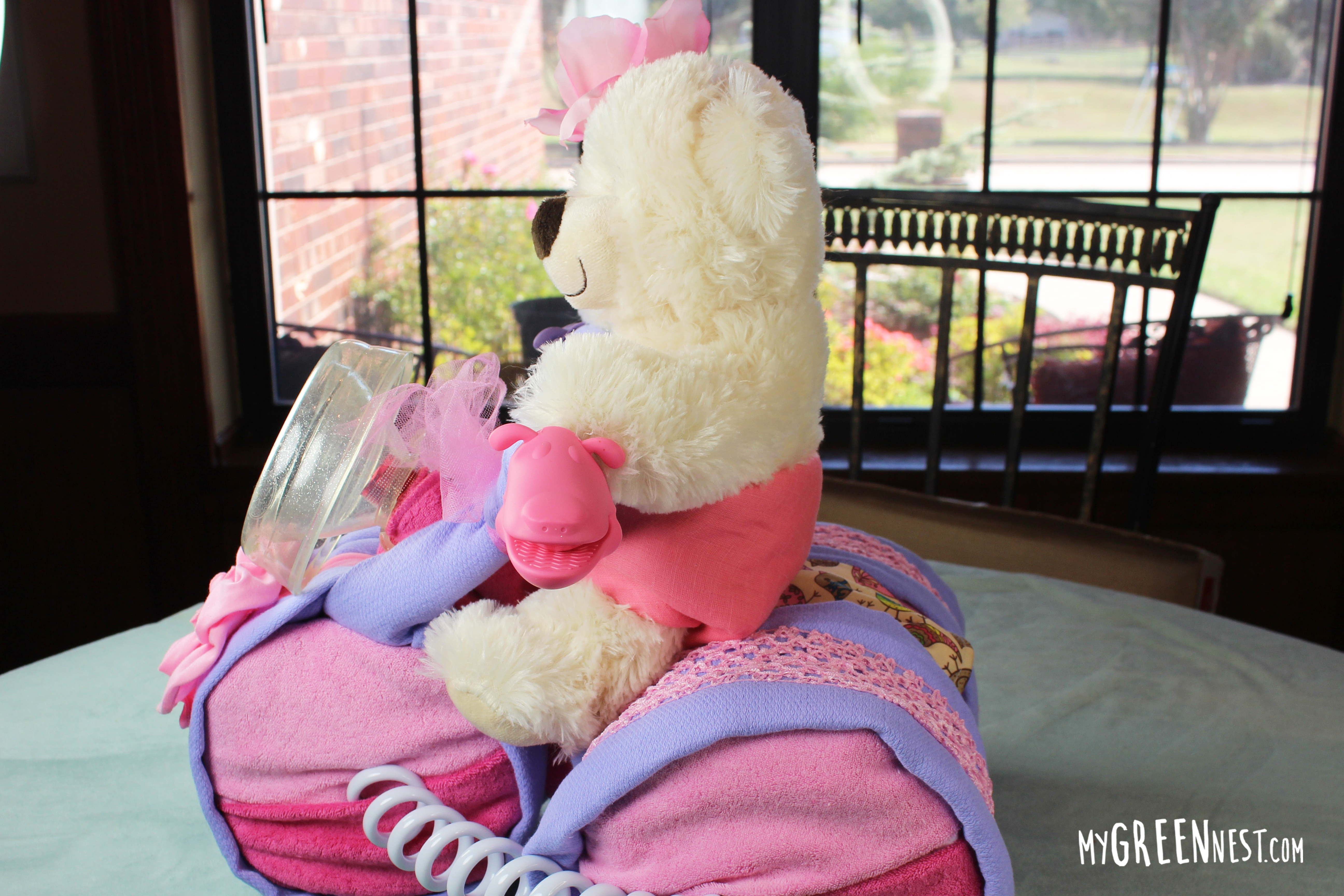 For amazing cloth diaper tutorials and all things green, please consider subscribing and I will keep you up-to-date on my latest creations / giveaways!