Post may contain affiliate links. Are you trying to figure out what to get that annoying crunchy mom-to-be who wants to cloth diaper, breastfeed, and use essential oils on everything? Step away from the same old boring baby shower gifts and put that ugly baby blanket and overrated rubber giraffe down. It's time to make something that will amaze the pants off of Mrs. preggo! Build the ULTIMATE cloth diaper cake by following my step-by-step tutorial while simultaneously making the other moms jealous of your gift. I searched the internet a long time looking for a cloth diaper cake tricycle tutorial and found none, although there were plenty of disposable cake tutorials. That is when I decided to create my own and share. After a few months of gathering supplies and testing, I created the cutest cloth diaper cake I have ever made. This little guy will help any new mom jumpstart her cloth diapering stash in style!  
Cloth Diaper Supplies
Ok, so I am not going to lie… this is a big, expensive, and very involved diaper cake to make but it's very doable! The price of making this diaper tricycle is going to cost you anywhere from $150.00 to $200.00 depending on where you get your supplies and if you already have some of the items around the house. You can go in with a friend or two to cut costs and even make the cake together. Just try not to drink at the same time or you might end up with something completely different than what I am going to show you! For your convenience, I have hyperlinked in green a few of the supplies that are on Amazon. I do make a small commission if you actually purchase any of the supplies through my link and it's no additional cost to you. And when I say small I mean it's so small it's actually kind of pathetic … but hey, every penny counts right?
Basic Supplies
2 small safety pins (one inch in length)
Pack of small clear rubber bands
1 pack of small clear rubber bands
Several larger rubber bands
Large bread tie (optional)
One paper towel roll
3 toilet paper rolls
1 long 28-29 inch flower from hobby lobby
Black plastic snap tape (3 packs, from Hobby Lobby)
Mini flashlight from the dollar tree
4-8 small Gator clips about (3/4 of an inch)
Click the image above to play the video.
Click the image above to play the video.
What All Comes In This Cake!
Here is a quick run-down of everything that is included in this bomb-tastic diaper cake and why this cloth diapering mother-to-be will be a lucky lady to receive it!
With this one awesome diaper cake, the new mom will receive a set of prefolds, which can be used as burp cloths or cleaning rags.
One set of flat diapers which are very versatile and will last virtually forever.
Six charcoal inserts that absorb amazingly, and are great for stuffing in pocket diapers or just doubling up.
A diaper sprayer that hooks up to the shower and cleans dirty diapers in the toilet!
A waterproof bag that holds several soiled diapers for traveling, and can be used for wet clothes, makeup, bathing suits, or whatever!
Twenty thick baby washcloths which have infinite uses like cleaning dirty spills, faces, and other fun surprises. They can be used as cloth wipes, washing baby, or to clean yourself after pumping. Check out my full review on the Hippo Kisses BABY WASHCLOTHS. 
One set of finger guards that keep fingers from getting dirty when dealing with poopy diapers and pulling out soiled inserts.
As you can see from the list above, the mother is basically going to be set-up for cloth diapering. The only things left she will need to get are diaper covers, a diaper pail / liner, and maybe a few other cloth diapers. This cloth diaper cake will really help get a jumpstart on her diaper stash and will probably be one of the cutest and creative gifts at the shower!
This tutorial is 100% original and created for my blog, MyGreenNest.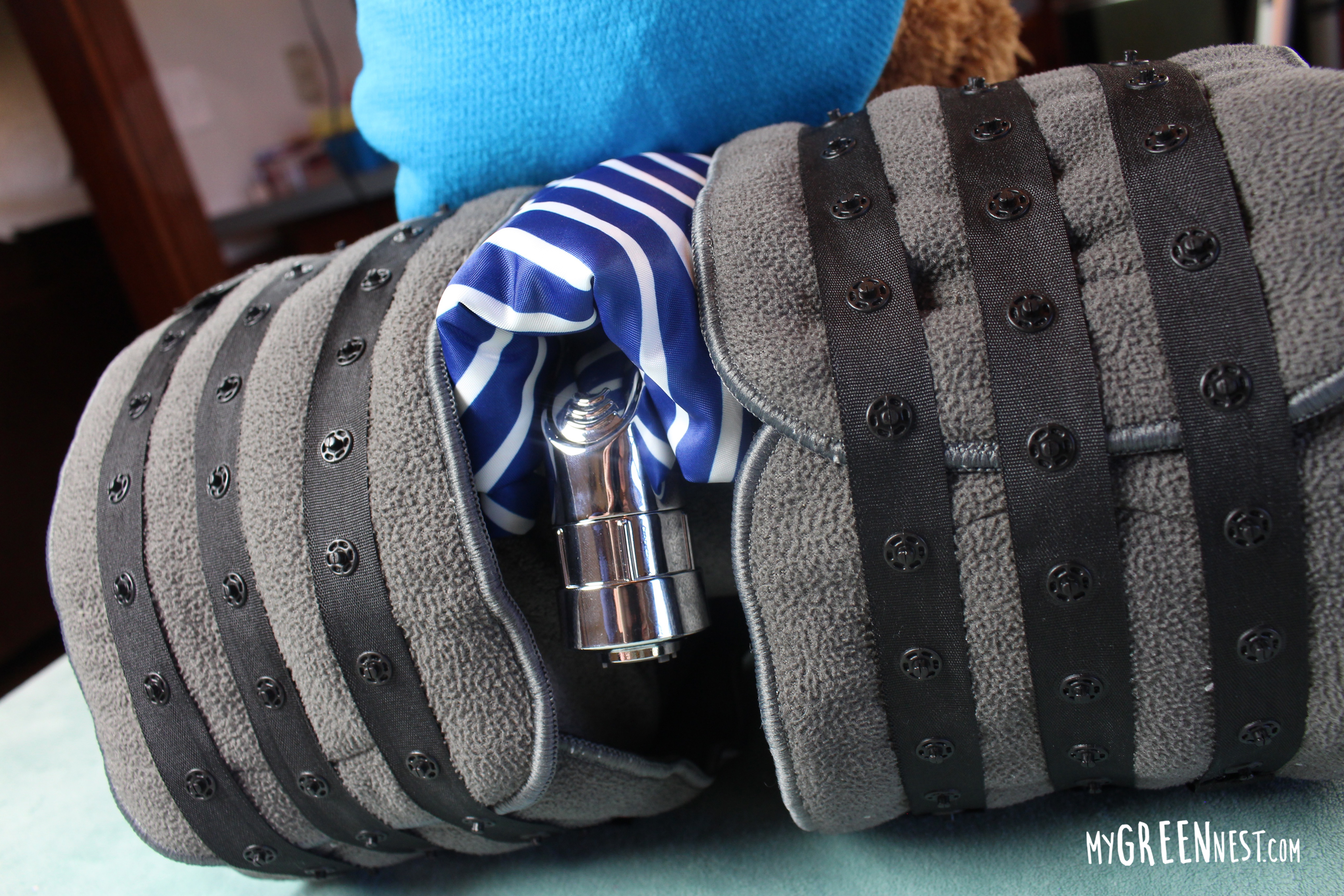 I hope you enjoyed this adorable cloth diaper cake tutorial. If you know anyone who loves cloth diapers and DIY, please pin and share this with them. If you have any questions, please ask them in the comments below. If you create your own cloth diaper cake, be sure to tag me on Instagram (@MyGreenNest) so I can see what you did.
Catch you guys in the next video! 🙂