Hey Nesties! I got to test out the brand-new prefolds from Buttons Diapers and I gotta say, you're gonna love them.
I'm 99% sure prefolds are my favorite type of cloth diaper because frankly – you can't break them.
After trying out a few brands of prefolds (OsoCozy, BabyKicks, and Imagine Baby) Buttons prefolds have become my new favorite. ❤️ Keep reading and I'll tell you why!
Post may contain affiliate links and the product was sent to me for an honest review. All opinions are 100% mine. 
Did you know that you can win your own set of buttons diapers prefolds? – Giveaway details are at the bottom of this post.
Buttons Diapers Prefolds
The prefolds that Amy from Buttons Diapers sent me are 55% Bamboo and 45% Cotton. They're made with a durable gauze weave and unbleached. Currently, she Also offers 100% Cotton unbleached prefolds.
Buttons offer three size ranges and range from $15.00 to $29.50 for a pack of six.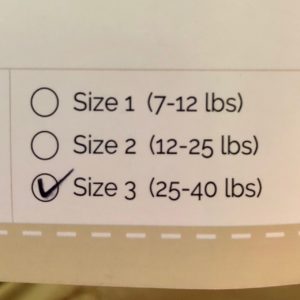 As you can see, I chose to get size 3. These are larger than the Osocozy medium prefolds but slightly smaller than the imagine baby toddler sized prefolds.
Click the image above to play the video.
If you are interested in trying out these amazing prefolds, you can click my affiliate link. I do make a small commission if you purchase any of the products through my link… and it is at no extra cost to you!
What I Love
Softer Than A Baby's Bum:
The thing that stands out the most about the new Buttons Diapers prefolds is that they're SUPER SOFT!
I kept thinking they'd get harder with additional washes but they continued to stay soft. These are actually the softest prefolds I own.
Absorbency – Level Awesome:
Because they're made from Bamboo they're a little more absorbent than my other 100% cotton prefolds.
Eco-Friendly & Easy On Your Wallet:
Speaking of Bamboo, it's one of my favorite materials because it's so soft and absorbent. Bamboo doesn't require as many pesticides (if any) because it grows so fast.
Prefolds can be used on multiple babies and as burp cloths or cleaning rags; making them one of the most economical and eco-friendly diapering options.
Buttons Diapers prefolds are actually super affordable. You get six for around 4-6 bucks per diaper with tax. Not too shabby.
The Support Is Fab:
Amy from Buttons Diapers has her customer service game down!  She's always been quick to answer questions, resolve any problems, and easy to collaborate with.
I've worked with quite a few sponsors and Buttons Diapers is definitely one of my favorites.
In fact, she was the first sponsor to send me a free product to review when my blog was brand-spanking new.
What I Don't Dig
Not Local:
Buttons prefold diapers or products, in general, are not made locally but in Pakistan. I prefer to support USA or Canada made products.
Because the products are made overseas they're a little more affordable so that's the benefit for consumers. If you support Buttons you're still supporting a family-owned business.
Old Fashioned Prepping:
Yes, Bamboo is my favorite material but you'll still have to prep the buttons prefolds before You can use them. (If you choose the bamboo ones)
I had to wash them multiple times to get all of the natural oils out before I could start using them. Not a huge deal but not my favorite part of cloth diapering either.
It's Not Complete:
The only other drawback to these prefolds or "prefolds in general" are that you'll need to purchase additional covers to go with them.
Buttons covers work well with these prefolds in a pad fold. I personally like to fit them with a Snappi fastener and use a Thirsties cover to get a more Tailored fit.
Final Thoughts
Overall, these bamboo prefolds rock and are my new personal favorite! I highly recommend snagging a set or two for yourself. They are very good quality and affordable.
How To Enter
Open To US & Canada ONLY:
When you click share, you will see several images pop up. Pin the image that I have circled here. Not this exact image, the long skinny one that says "NEW Buttons Diapers Prefolds!" Once you've pinned this image on Pinterest, comment on my blog and let me know what you think about prefold diapers and tell me your Pinterest username.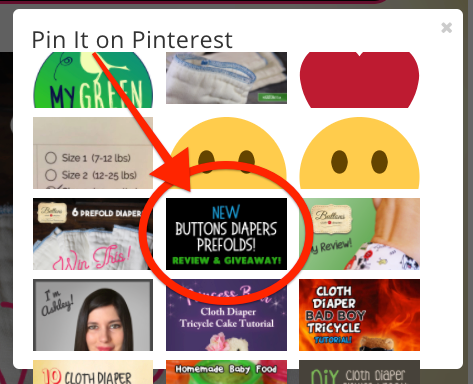 That's All Folks! I'll choose a winner on Saturday 🙂