Post may contain affiliate links. So maybe you are wondering what to do with all of the baby washcloths you received from your shower. They may be one of the most useful and versatile gifts you received. Here are 10 alternative uses for your baby washcloths!
I wasn't sure as a new mom if baby washcloths were worth purchasing but now I use them more than any other type of household cloth.
1. Baby washcloths are perfect for general cleaning. I like to use them on my more delicate things like glasses or tv screens.You can use them to remove makeup or clean off your jewelry.
2. You can use them to clean off your pump supplies. They are the perfect size cleaning rag for getting into the small areas of your pumping parts. This allows for a more thorough clean.
3. I like to use baby washcloths to wipe myself at my pumping station. They are the perfect size for throwing in your purse or bag. When I first began breastfeeding I was very sore and these washcloths were a lot softer than your general cleaning rag.
4. Baby washcloths can be used with or in place of reusable nursing pads.This is great if you are out of disposable nursing pads or just forgot them. Simply whip out your washcloths and fold them in a square and insert into your bra! You can fold them several ways and double up for night time.
5. Quick panty liner! You can use these in place of a panty liner incase you are in a situation and would rather not use toilet paper. A lot of women are starting to use reusable cloth pads to help the environment and cut cost!
6. Baby washcloths make FANTASTIC cloth wipes and they are more affordable compared to purchasing "cloth wipes." You will save a TON of money and trips to the store if you switch to using cloth wipes, even if you use disposable diapers. I find that baby washcloths get my baby a lot cleaner than the disposable wipes because the fabric grips onto the mess instead of smearing it. If you are looking for a fun way to store your cloth wipes, check out my video on POP YOUR CLOTH WIPES!
7. Reusable toilet paper! Using baby washcloths instead of toilet paper is a great way to help the environment and cut cost. You can have a nice little basket with some fresh cloth wipes next or on top of your toilet and keep a wet bag to place the soiled ones in. Launder them once or twice a week with hot water and use a little bleach every once in a while. Buying reusable toilet paper or "adult cloth" can be a little pricey so I would suggest using baby washcloths instead.
8. Stop using paper napkins and start using cloth! I am not talking about those fancy cloth napkins that look pretty but don't absorb messes very well either. Baby washcloths are fantastic at cleaning your baby/various messes and they are already the size of your basic table napkin. This makes them the perfect alternative to using paper napkins! Keep them in a wet bag inside of your car with some water in a spray bottle. If one of your kids spill something in the car you can clean it up a lot easier and then toss the soiled cloth in your wet bag.
9. You can use them as baby teethers. Take your baby washcloth, roll it up and add a little clear rubber band and then mist with water. Make a few of these and set them all in a tub and then pop into the freezer. Your baby will love chewing on these and the washcloths don't have the chemicals that some plastic teethers have. *Just make sure you have a bib on because when the water melts it could get a little messy.
10. Last but not least, baby washcloths make the perfect gift! You can make all sorts of cute decorations for diaper cakes, baby showers, and so on out of them. Even if you do not cloth diaper, I think every mom should have at least a handful of these useful washcloths!
How To Make A Flower out of baby Washcloths!
In this quick tutorial I will show you how to make a cloth flower that will impress your friends and family! They are really easy to make and low cost. You can make these for baby showers, use them as diaper cake accents, and more!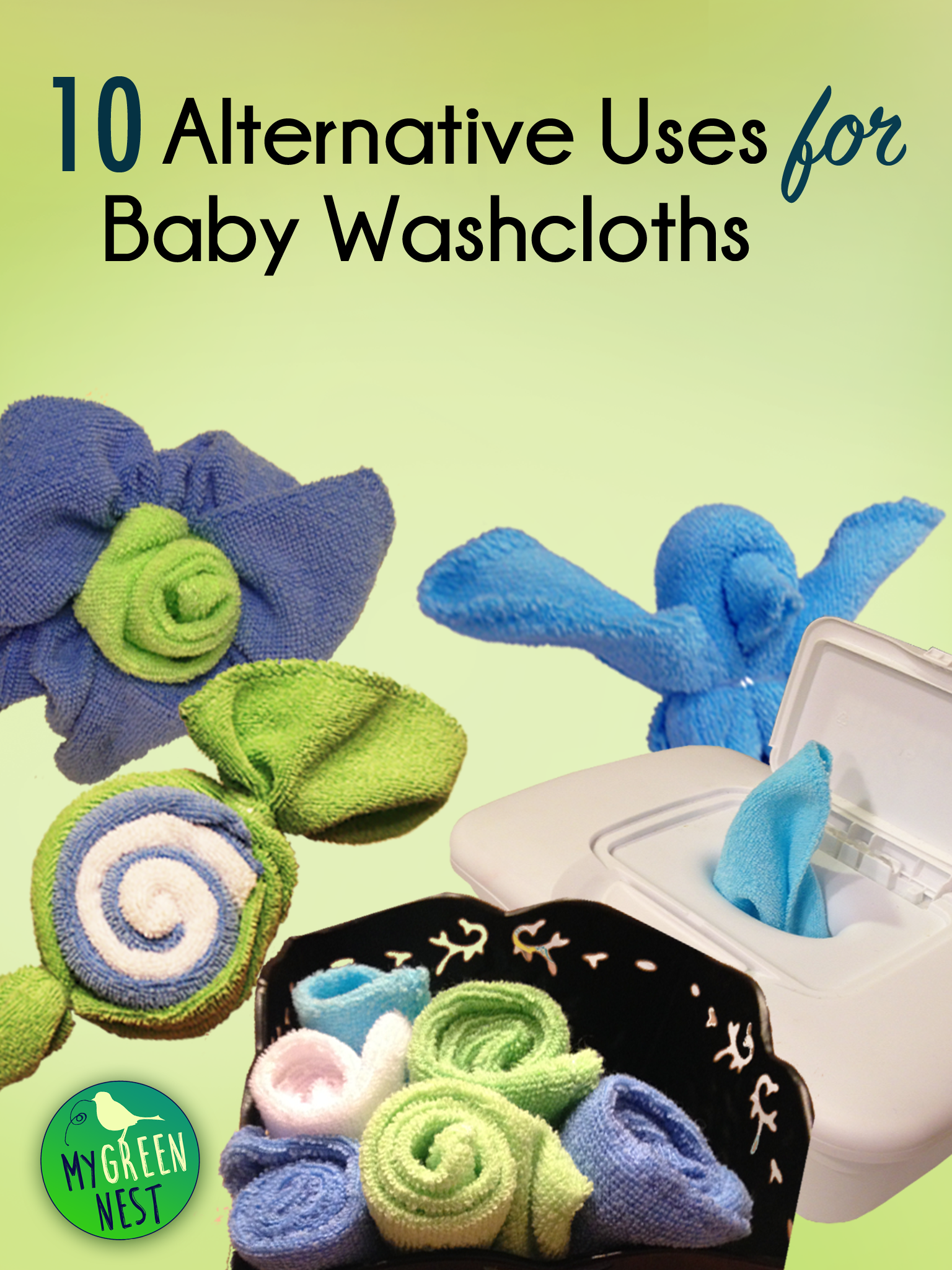 If you enjoyed this post, here is an image you can pin or share!