Out with the Old, In with the New: Finding a Green Mattress
Mattress disposal doesn't have to end at the landfill. Today, there are more disposal options available than ever, including recycling or donating. The biggest step you can take to keep your mattress out of the landfill—choose your next mattress wisely.
This is a guest post and it may contain affiliate links.
Out With the Old
You have a few different choices when it comes to disposing of your old mattress in an eco-friendly manner.
Your easiest options are to recycle and donate.
Recycling
Mattresses take up a serious amount of space in landfills when many of their components can be recycled. It seems like such a waste to let those reusable materials sit unused.
Steel – Innerspring mattresses can be made of nearly twenty-five pounds of steel. Steel recycling facilities dot the nation and make steel one of the easiest components to recycle.
There's so much steel, you might have a hard time transporting it to the recycling facility. In which case, you may need to see if the facility offers a pick-service.
Wood – Wood frames can be chipped or pulped for various purposes. You get the added bonus of potentially saving other trees that may have been cut down otherwise.
Foam – Foam fillers can be shredded and compressed to make carpet padding, exercise equipment, car seats, or any other device that requires high-density foam for shock absorption.
Fabrics and Fibers – Many mattresses have natural or synthetic fabrics and fibers within the mattress cover. Once cleaned, these fibers can be used to make new yarn or thread.
If you need help locating a facility that recycles mattresses, try Earth 911 or Bye Bye Mattress. Both sites will help you find a recycling facility based on the type of materials you want to recycle
Donating
The Salvation Army, Vietnam Veterans Association, and The Goodwill are only a few of the charitable organizations that accept mattress donations. Be sure your mattress is stain, tear, and bug-free before donating.
You may have to pay a small fee, but some of these organizations have a pick-up service for little or no fee.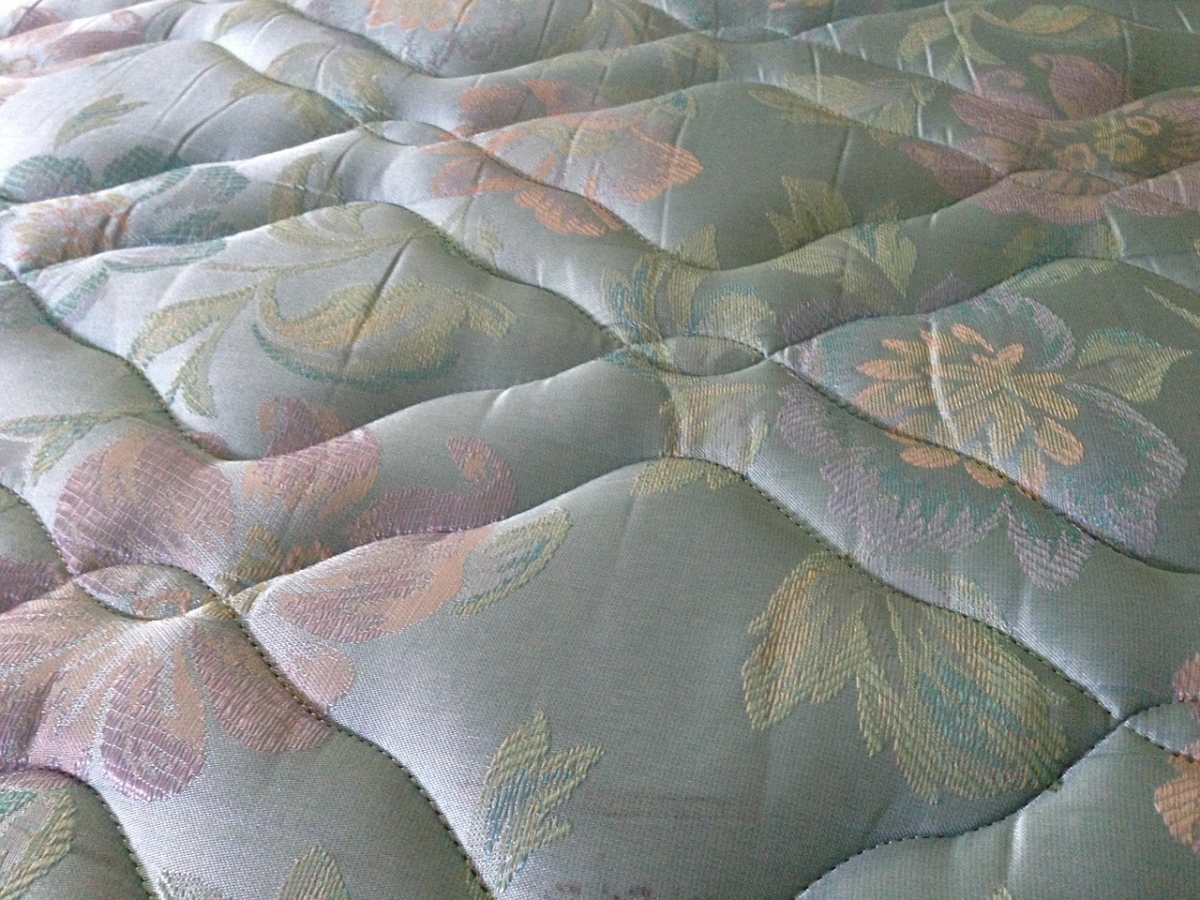 In With The New
The purchase of a new mattress can have a lasting impact on the environment. Knowing your options can help you choose a mattress that fits your budget and leaves a smaller eco-footprint for generations to come.
Latex Looks to the Future
If you want a mattress made of natural materials, is biodegradable and offers incredible durability, you might enjoy a latex mattress.
Natural latex is made from the sap of the rubber tree. Natural latex mattresses can be made from as much as 95% natural materials.
Keep in mind that even natural options will be mixed with some synthetics derived from petrochemicals, but latex will break down over time even if it makes its way to the landfill.
Eco-Friendly and Organic Alternatives
Other mattress options like foam, innerspring, and hybrid mattresses simply cannot offer the same natural materials as latex. Usually, a few components or parts are organic or eco-friendly rather than the whole mattress.
However, you can find eco-friendly and organic options amongst these three types. The key is to look for certifications from organizations like the Eco-Institut, CertiPUR-US, and OEKO-TEX Standard 100 when looking for health factors like harmful emissions or chemicals.
Other organizations like Global Organic Textile Standard, Global Organic Latex Standard, and GreenGuard monitor environmental and social impact of the manufacturing process.
About The Guest Writer
Rick Blanchard is an expert on sleep product materials and manufacturing for BestMattressReviews.com. His research covers the entire life cycle of mattresses and bedding, including production, wear over time, and disposal. Rick lives in Tarrytown, New York.