We all want to give our baby the best and save money while doing it. You can do that when your own cook homemade baby food recipes. My child can also be a picky eater but he always loves his apple carrot puree.
In this video/blog post, I'll show you exactly how I make this healthy treat, a few other baby food recipes, and the exact reusable storage pouches and containers that I love using! 
Post may contain affiliate links. If you click on any of my links and purchase something, it will help to support my blog at no extra cost to you. 
Health Benefits
Apple carrot purée is loaded with vitamins C, A, and E. It'll help promote healthy eyes, skin, and regulate bowel movements in your baby. Is your baby struggling with constipation? Try this recipe out as there's a good amount of fiber in this recipe.
There are no added preservatives like with store bought baby foods, everything can be made from organic fruits and vegetables. That's what I love about homemade baby food recipes. You know exactly what is in them and everything is made fresh.
Click the image above to play the video.
Apple Carrot Purée
This recipe will make around 45.5 oz total
To make this yummy recipe all you will need is a bag of carrots and apples. I used organic Gala apples but you are welcome to use whatever you like. You will want to peel everything with a potato slicer, rinse thoroughly, and chop into smaller pieces. I used an apple slicer to speed up the process.
Throw everything into a large pot and completely immerse in water. Put on medium to high heat and once it starts to boil let it cook for 20-30 minutes until tender. When you can easily run a fork in one of the carrot slices you are ready to purée. Carefully transfer everything to your food processor and purée until smooth.
For a smoother texture add some water from the pot. Continue adding the fruits and veggies and blending. You can add additional seasonings if desired. I added a little bit of cinnamon and sea salt for a flavor boost.
Once everything is puréed you can begin filling up your baby containers or pouches. If you are freezing most of it, leave a little bit of room for expansion.
Zucchini Carrot Purée
You will treat this recipe almost exactly like you would the apple carrot one except you will not have to peel the zucchini. Simply wash them with soap and water and chop into smaller pieces.
You will need 4-5 regular sized zucchinis or 5-6 small zucchinis. You can get crazy with it and add a mixture of zucchini and squash to the recipe.
Butternut Squash Recipe
This is a one-man show as far as ingredients. Butternut squash offers a ton of health benefits like guarding against heart disease, breast cancer, offering a healthy dose of fiber, and much more.
To get started you will want to use a sharp knife and cut the squash in half. I say sharp knife cause these suckers are hard tough to cut through! Preheat the oven to 350 degrees. Remove the seeds with a spoon and peel the skin with a potato peeler. You can cut the rest of the squash into slices so it will bake faster or leave in two large chunks.
You can add a touch of olive oil to the baking pan to keep from sticking. Sprinkle a little sea salt and cinnamon for a flavor boost if you desire. Bake for an hour. Once you can easily run a fork through it you will know it's done. You can scoop the squash into baby jars or puree it to go into reusable pouches.
If you purée it you can add a little fruit juice or water to give it a smoother texture. Let everything cool before freezing or placing in the fridge.

Useless Fact: did you know butternut squash is actually a fruit? This is because it contains seeds.
Reusable Pouches & Baby Food Containers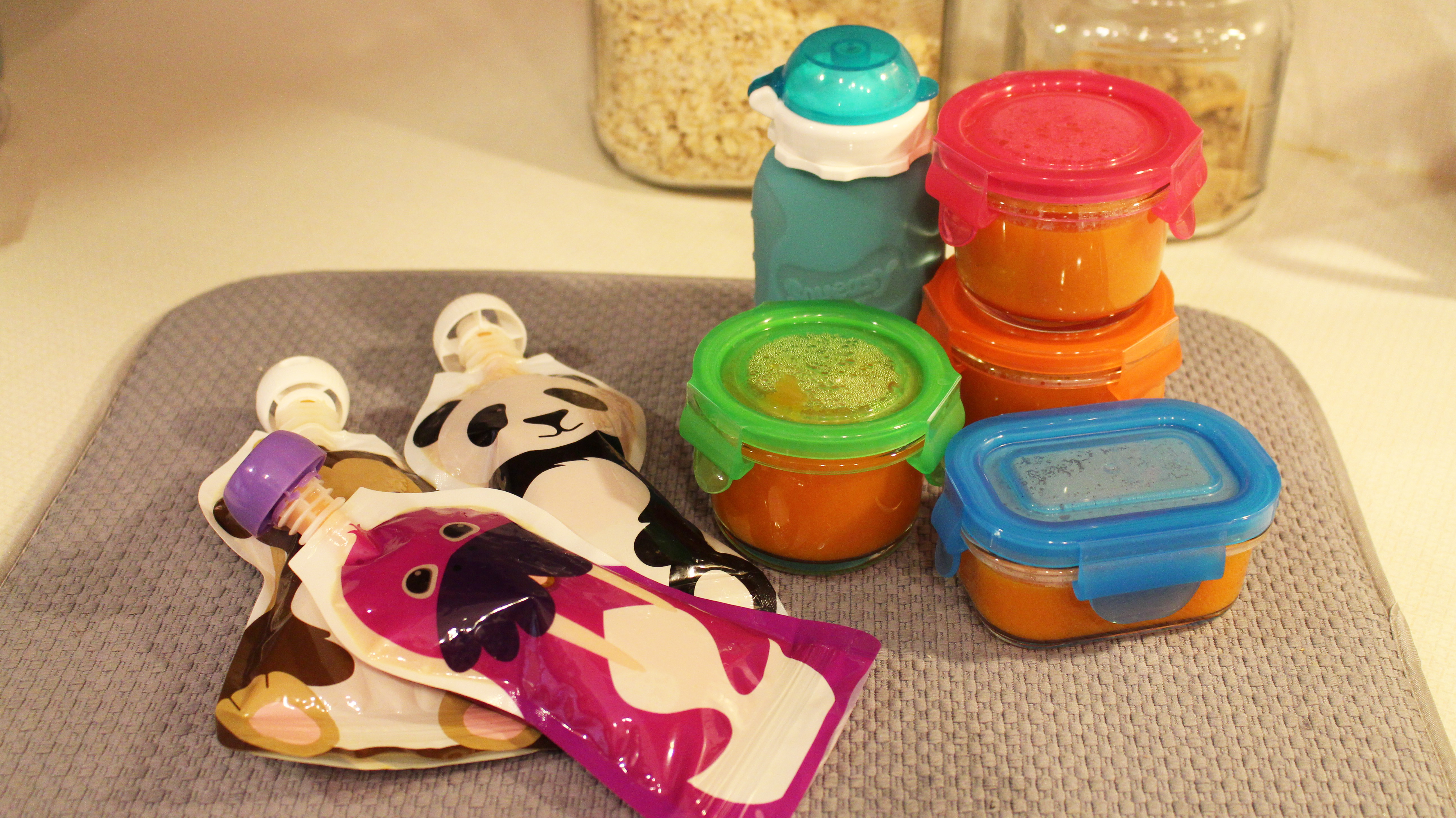 Squooshi Reusable Food Pouches
These are fantastic reusable pouches that come in a lot of fun animal designs. They also offer a few adult pouches that you can use for frozen smoothies, yogurts, and more. (Aff link) Squooshi Pouches are easy to use and you can get them for a great price!
Squeasy Snacker Food Pouches
(Aff link) The Squeasy Snacker Pouches are made from 100% food grade silicone and are the easiest reusable pouches to wash. Squeasy snackers come in a variety of sizes/colors to fit your needs and can be frozen or heated up.
These are my personal favorite but they do cost quite a bit more than the other pouches. They're way easier to clean though and perfect snackers for toddlers!
Wean Been Glass Baby Containers
These are awesome (Aff link) Glass Containers that are perfect for storing and freezing baby food, sauces, and small fruits and veggies. I love the bright colored lids and they are made from 100% recycled glass!